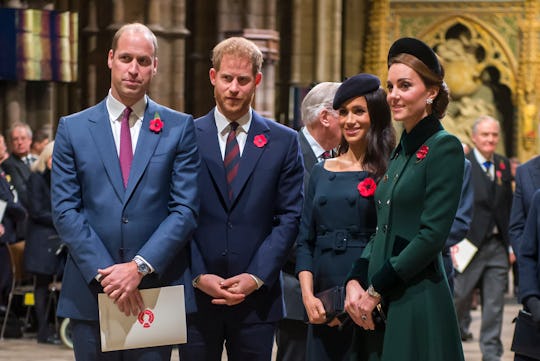 WPA Pool/Getty Images News/Getty Images
Meghan Markle & Kate Middleton's Double Date Proves They're BFFs
I know Meghan Markle and Kate Middleton's relationship is probably none of my business. I know this, yet I can't stop myself from being interested. It's sort of their fault, what with their charm and their tiaras and their glossy hair. Plus they're sisters-in-law, married to the two princes I totally remember watching grow up. So it stands to reason that I would be rabidly interested in their lives, right? Not in a bad way. I only want good news for this dynamic duo. So when Meghan Markle and Kate Middleton took their husbands on a double date, I suspected my dreams came true. They're probably best friends, just as I always hoped.
Kate Middleton and her husband, Prince William, attended the Royal Foundation Dinner at Victoria House in London with Prince Harry and his new wife, Meghan Markle on Friday, as People reported. It was a private event, which means we didn't get to watch the two royal couples on television for any clues to the nature of their private relationship like the weirdos we all are (or maybe that's just me watching either of the recent royal weddings). Fortunately, Tom Walker (one of the performers that evening) was kind enough to share a few pictures on social media.
Most importantly, he shared a shot of Meghan Markle and Kate Middleton standing side by side. Because they're the royal couple I really care about, to be honest.
The two couples have been presumably spending a lot of time together as of late, what with Prince Charles' 70th birthday celebrations happening over several days and culminating in a huge bash on Wednesday, according to Cosmopolitan. Which makes sense since he's the heir to the throne and such. And while this picture of the entire family together was obviously taken earlier, royal fans only got to see it on Wednesday so it feels like Kate Middleton and Meghan Markle are just doing family stuff together all the time these days.
There have been rumors that the two couples are "breaking up" in the media recently, which is based on a business decision to break up their joint court at Kensington Palace and create two separate offices. As royal author Sally Bedell Smith explained to People, it all comes down to the work each couple wants to carry out in their royal duties:
It is inevitable and practical because it gives Harry and Meghan some freedom to build up their own collection of interests and charities. Meghan has very strong views on what she is interested in and that may be what Harry shares, but not what William and Kate share.
When it comes to their private lives, I have a feeling Markle will be looking to Middleton for some pretty specific guidance these days. She is expecting her first child in the spring, and Middleton knows a thing or two about royal babies. After all, she's given birth to three really cute ones over the past five years; Prince George, Princess Charlotte, and little baby Prince Louis. I like to think Meghan Markle is going to Kate Middleton for advice. I also like to think the two of them are spending evenings on the sofa in one of their palaces watching Hallmark Christmas movies and eating junk food.
But that might just be me.