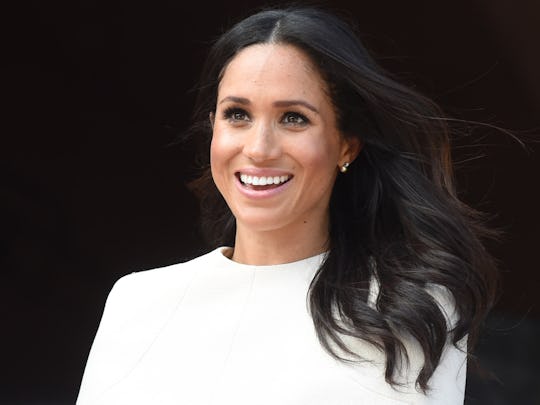 WPA Pool/Getty Images Entertainment/Getty Images
Meghan Markle Nearly Took A Spill While Walking In Heels, Proving Yet Again She's Just Like Us
Paparazzi photos of celebs shopping in their PJs, funny and relatable social media posts, and down-to-earth interviews like to really hammer in the point that A-list stars are just like us, but that can be a hard pill to swallow. While you're sitting on your couch eating cheese, watching Season 2 of Netflix's Queer Eye, and also bawling your eyes out, it can be tough to believe that your favorite celebs are doing just that. But now there's one celebrity who continues to live up to that statement, and it's a breath of fresh air. Over the weekend, Meghan Markle nearly took a spill at her first royal wedding as the Duchess of Sussex while walking in high heels and it just goes to show that she really is just like rest of us. Because honestly, who among us hasn't been at a fancy event and nearly embarrassed themselves in front of a bunch of important people?
Just because she's a duchess now, that doesn't mean that Markle is any less of a regular woman. Well, she's got tiaras, a security detail, and loads of fancy hats. But still, you get the point. Essentially, Markle is a member of the royal family who is also totally relatable. While attending a wedding for Prince Harry's cousin over the weekend, Markle (who looked fabulous, by the way) briefly lost her footing while walking hand-in-hand with her new husband. And while she never actually fell to the ground, the split-second moment of unstableness was adorably real. Many may see Markle, the new Duchess of Sussex, as nearly perfect, but in reality, she's just as prone to a near tumble as the rest of the world.
As reported by the Daily Mail, Markle attended the wedding of Prince Harry's cousin, Lady Celia McCorquodale on Saturday, and as can be seen from in the video in the tweet above, things got a little wobbly for a brief moment. Now, to be fair, Markle's little near-tumble lasted for a split second, and really wasn't much of anything, but that fact that it did happen was beyond relatable. After all, Markle wasn't born into a royal family; she's a California girl who has likely had to learn a lot in the past few months about #DuchessLife.
Think about it: it's been less than a month since Markle married Prince Harry on May 19 and she has already made a number of appearances since then, which probably means that she's had to learn pretty quickly about what it's like to be an official member of the royal family. Between going to Prince Harry's father's birthday celebration mere days after her wedding, to the Trooping the Colour parade in honor of the queen earlier in June, and then Markle's first solo outing with Queen Elizabeth II, Markle has been busy.
All eyes have been on Markle lately, so it's no surprise that people caught her almost taking a tumble. Just last week, Markle was spotted in the midst of another adorably moment of awkwardness when she didn't exactly know the royal protocol when she and the queen began to enter a car together. It seems like a minor detail, but when you're traveling with the queen and dozens of cameras are watching you... well, there's extra pressure. Watch that moment below:
While every person who has ever worn heels to a wedding on a grassy lawn can commiserate with the duchess right now, there was something else from that brief moment that's worth mentioning: the very charming Prince Harry was there to help her catch her balance while she was walking. Almost immediately after Markle started to slip, Prince Harry looked back and steadied his wife, making sure she was OK. #Swoon.
Of course, the duchess' minor slip-up wouldn't be worth discussing if she were anyone else. But because Markle is the closest thing to an American princess the United States will get any time soon, the fact that she, too, stumbles every now and then kind of makes the world, especially on the other side of the pond, love her even more.