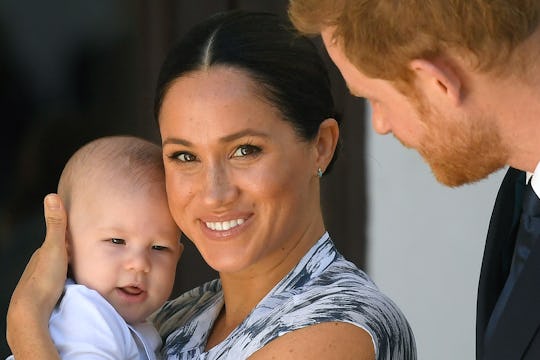 Pool/Samir Hussein/WireImage/Getty Images
Meghan Markle & Prince Harry's Plans For Archie's First Christmas Sound So Perfect
Meghan Markle and Prince Harry are getting ready to enjoy a much-needed break from royal duties over the holidays. They've been pretty much going non-stop since the birth of their little boy Archie in May, and now that the holiday season is finally here it looks as though they're ready to enjoy some family time. And it turns out Meghan Markle and Prince Harry's first Christmas with Archie could end up being spent on the former actress' home turf in Los Angeles.
The Sunday Times reported in October that the royal couple would travel to Los Angeles with their 6-month-old baby boy Archie to spend Thanksgiving with Markle's mother, Doria Ragland. This will be the first time the entire Sussex family will visit Los Angeles, and it will also give Markle the opportunity to introduce her baby boy to the American side of his heritage. Something a friend of Markle's reportedly told Vanity Fair has become more important to the Duchess of Sussex recently; "It has always been important to Meghan that Archie grows up aware of his American heritage and they plan to spend more time in the States as he grows up. They've not had much time off and this feels like the right moment to take a proper break."
Beyond wanting to spend Thanksgiving in her home country, Markle also wants to have some time with her own mother. And it looks as though that special time with Archie's maternal grandmother will extend beyond that holiday and into Christmas. Meghan Markle and Prince Harry released an official statement on Wednesday announcing that they would not be spending Christmas at Sandringham with the Queen and would, instead, be with Markle's family.
As per the statement released by Buckingham Palace, the Duke and Duchess of Sussex will be enjoying some "extended family time" at the end of this month. And considering the fact that they spent the past two Christmases with the royal family at Queen Elizabeth's Sandringham estate, they plan to spend this year with Ragland. Now before anyone gets excited and starts in with all of the rift rumors, a spokesperson for the Sussex family went on to note that their plans have been approved by the Queen herself, as per Elle:
This decision is in line with precedent set previously by other members of the Royal Family, and has the support of Her Majesty The Queen.
No word on whether the couple will spend Christmas in England with Ragland or in the United States due to potential "security risks."
It is important to note that Prince Harry's older brother Prince William has taken time away from the traditional royal Christmas at Sandringham estate in the past as well. He and his wife Kate Middleton have taken their children to spend Christmas with her parents, Tony and Carole Middleton, in previous years, as per Harper's Bazaar. So the concept of Markle spending the holidays with her own mother should not be considered unusual.
Also let's face it; as charming as a royal Christmas at Sandringham sounds, I would imagine it would be fairly hectic. Lots of people around and not a whole lot of time to just hang out and enjoy your baby's first Christmas.
The Sussex family has plenty of Christmases ahead of them. Why not take this first one to bond as a small family?