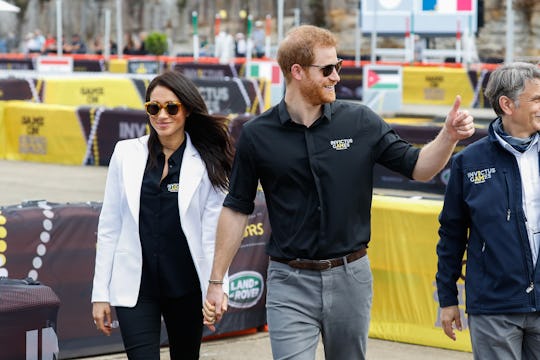 Chris Jackson/Getty Images Entertainment/Getty Images
Meghan Markle's Pregnancy Fatigue Causes Her To Miss Royal Tour Engagement
The average pregnant mother-to-be does not have to go on public tours halfway across the world from home right after announcing their pregnancy. But, and I think this goes without saying, Meghan Markle, Duchess of Sussex is not your average pregnant woman. Reportedly, while in Australia this week with husband Prince Harry, Duke of Sussex for their royal tour, Meghan missed an engagement due to fatigue from pregnancy.
Meghan and Harry timed their current tour of Australia to coincide with the Invictus Games, a sporting event for injured servicemen and women that Prince Harry founded in 2014, according to the organization's website. Sunday morning (in Sydney, Australia time), Meghan and Harry were scheduled to present medals to winners of a road cycling event at the Invictus Games at the Royal Botanic Garden, The Daily Mail reported. However, when Sunday morning rolled around, Harry was spotted handing out the medals solo. According a royal source who spoke with Hello! magazine, Harry reportedly suggested to Meghan that she take the morning off from royal engagements, since she had been feeling fatigued the night before.
This followed an announcement that Meghan would be lessening her duties for the rest of the trip. As People noted, multiple royal correspondents tweeted paraphrased statements from a senior palace source, explaining that the Duke and Duchess decided to cut back on Meghan's schedule a bit for the remainder of the Australian royal tour.
Luckily, Meghan's fatigue didn't last long. By Sunday afternoon, the royal couple was spotted at a reception hosted by Australian Prime Minister Scott Morrison at the The Pavilion restaurant in Sydney, People reported. At the reception, People noted, Harry and Meghan were joined by Invictus Games competitors along with their family and friends, as well as kids from the Australian Kookaburra Kids Foundation, a group that supports supports children whose families are affected by mental illness, as per its website. Is it just me, or are Harry and Meghan meeting so many kids on this trip? Looks like they're taking all the preparation they can get ahead of welcoming their first child.
Meghan announced that she was having issues with sleep and fatigue on her trip due to pregnancy a few days ago. "Meghan told me that pregnancy was like having jet lag," said Charlotte Waverley, a fan of the royal family, according to Marie Claire. "She said she was up at 4:30 a.m. this morning doing yoga in her room as she couldn't sleep. It's a bit of a double whammy for her, she said, as she has both the baby and jet lag to contend with."
When it comes to fatigue during pregnancy, there's usually nothing serious to worry about. Fatigue is a common side effect of pregnancy — your body is literally creating a human, after all. According to What To Expect, most women experience the most severe fatigue in the first and third trimester, and it lightens up during the second trimester. Meghan is most likely in her second trimester at the moment, considering her spring due date, so hopefully her fatigue will lighten up soon before it's back in full force for the final stretch.
The Invictus Games kicked off on Saturday, and Prince Harry gave a shoutout to Meghan at the opening ceremony, TODAY reported. "I have been so proud to be able to introduce my wife to you, and we have been so happy to be able to celebrate the personal joy of our newest addition with you all," the Duke told the crowd in a speech, according to TODAY.
The royal couple is clearly so excited to become parents, and I love how palpable Harry's support for Meghan during her pregnancy is.