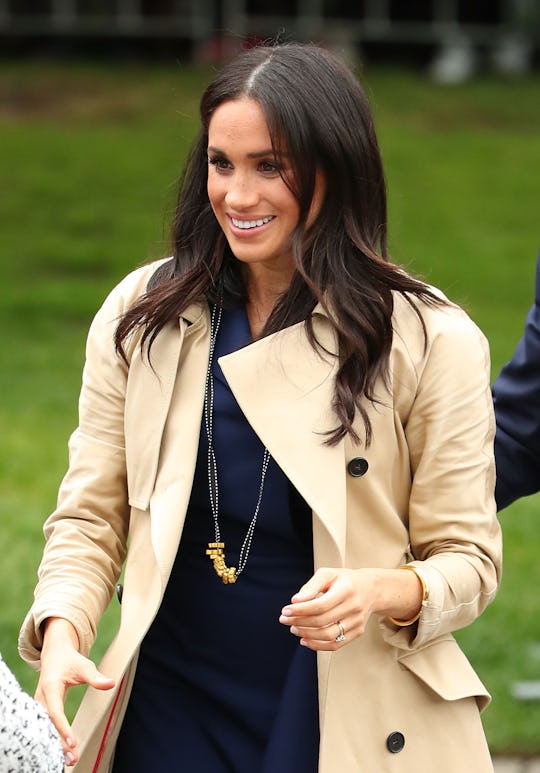 Scott Barbour/Getty Images Entertainment/Getty Images
You Can Now Buy Meghan Markle's Adorable Pasta Necklace, Because Dreams Do Come True
Children and macaroni go together like peanut butter and jelly. If you're a parent, you know exactly what I mean. There's at least one kindergarten picture made entirely of elbow macaroni hanging up on your refrigerator door. Maybe you're wearing a chic ziti bracelet, or golden dinosaur-shaped jewelry like the one gifted to the Duchess of Sussex last week. In fact, Meghan Markle's adorable pasta necklace is available to buy from the young boy who made hers, so you don't even need to be a parent to snag a sweet piece of macaroni art.
This week, Gavin, the elementary school student behind Markle's macaroni present, set up a website where he is selling the now-famous "pastapiece" he gifted the Duchess of Sussex last Thursday when the royal couple visited Melbourne, Australia, where Gavin and his family live, according to PopSugar. The handmade jewelry, which the young boy made using string, paint, and a few pieces of animal macaroni, is available for $20 a piece.
"We had a lot of people saying to Gavin, 'you should make more, you'll make lots of money from this, everybody will want to buy her necklace,'" his mom, Rowan Hazelwood, told Australia's Network 10.
But it's not about turning a profit for the Hazelwood family. Gavin is doing this all in the name of charity: The money from sales of his handmade necklace will be donated towards research into stillbirth in honor of Gavin's first sister, who Rowan lost at birth four years ago, as PopSugar reported. Rowan told Network 10:
She's a part of our lives still, even for the kids, and they talk to her every day.
The story behind the necklace is pretty special, too. Gavin told news.com.au he wanted to say hello to "a real-life princess" and give her a gift. He spent the morning of Markle and Prince Harry's visit to Melbourne's Royal Botanic Gardens last Thursday making the necklace, dipping dinosaur-shaped macaroni into gold paint and threading them through string, according to news.com.au.
The Duke and Duchess of Sussex had visited the Royal Botanic Garden on October 18 as part of their 76-stop royal tour, which kicked off last Monday. Squeezed against the barriers set up by security, Gavin held up his piece of custom jewelry, along with a sign that read, "I made you a necklace" (also the name of his website).
Not surprisingly, the sign grabbed the Duchess's attention.
Meghan Markle being Meghan Markle, she slipped her custom dinosaur-shaped necklace around her neck. And she rocked her new piece of jewelry proudly, too.
But this is not the only piece of macaroni art Markle and Prince Harry are bound to encounter. Kensington Palace announced last week, right before the launch of the royal tour, that the Duke and Duchess of Sussex are expecting their first child, sometime due in the spring of next year. (As a result of the pregnancy, Markle is cutting back her royal appearances for most of the trip.) That means the royal couple could look forward to many, many more pasta-and-ribbon jewelry to wear.