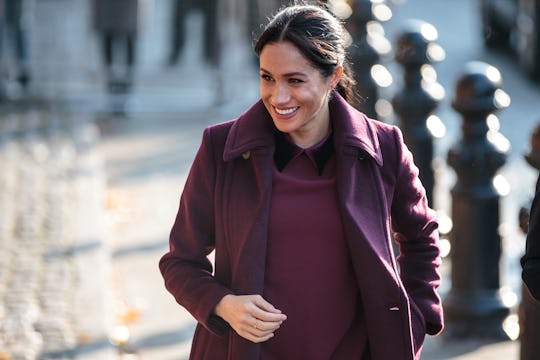 Jack Taylor/Getty Images Entertainment/Getty Images
Meghan Markle's Birth Plan Might Break Years Of Royal Tradition
Meghan Markle and Prince Harry don't strike me as people who are trying to shake up the very core of the British monarchy. They just seem like two people from very different backgrounds who are trying to figure out how to meld their lives into something that makes sense for both of them. Markle is an actress who was born and raised in southern California by a mother who's a yoga instructor. Prince Harry was born a prince to the next King of England. As the couple prepare for their baby, Meghan Markle's birth plan might cause another ruckus within the royal family. Not because she's trying to be disrespectful, in my opinion, but because she and her husband are trying to decide what works best for them.
We all remember what it was like for Kate Middleton, Markle's sister-in-law and mother of three, when she gave birth at the Lido Wing at St. Mary's Hospital in London. It was a regular three ring circus for each birth; 5-year-old Prince George, 3-year-old Princess Charlotte, and 8-month-old Prince Louis. As the wife of Prince William, second in line for the throne, Middleton was outside the hospital and greeting the media within hours of each birth. How she felt about that intrusion, we have no way of knowing, but it looks like Meghan Markle might not be planning to go for the same experience.
Vanity Fair reports that Markle, who is due to give birth in the spring, is exploring several different birth plan options with her husband. One option is apparently to forego the hospital completely and give birth at home, as royal correspondent Katie Nicholl wrote in the publication. Of course, by that time Markle and Prince Harry will be living at their new 10-bedroom renovated home, Frogmore Cottage on Windsor Estate, which sounds like it would be a pretty cool place to give birth. The couple are also reportedly looking into having the baby at a hospital close to Windsor as a possibility, despite the fact that both Prince Harry and his older brother Prince William were born at St. Mary's hospital in the private maternity ward, according to the Independent. Giving birth at St. Mary's Hospital and then standing outside while people take pictures of you and your baby has become a real royal *thing*, so it will be interesting to see if Markle follows suit.
It would actually make sense for Markle to give birth at home, Glamour reported (if at all possible, of course). Her mother, Doria Ragland, is expected to be on hand for the birth and to stay with the couple afterwards as they get accustomed to the new baby, and she is reportedly a fan of home births. A source close to the royal couple told Vanity Fair:
[Doria] wants to be on hand to help Meghan and Harry with the baby. Doria will be involved and if she's involved she will be encouraging Meg to go for a natural birth.
However Markle chooses to deliver the baby, I'm sure it will be a decision she and Prince Harry come to together. So let's maybe stop painting her as the renegade American who is trying to topple the British monarchy with her modern ways, okay?
As long as we see a picture of the baby at some point, I'm all good.
This first-time mom wants to have a home birth, but is she ready? Watch how a doula supports a military mom who's determined to have a home birth in Episode One of Romper's Doula Diaries, Season Two, below. Visit Bustle Digital Group's YouTube page for the next three episodes, launching every Monday starting November 26.