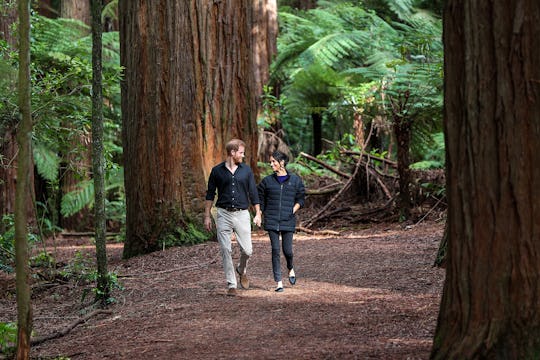 Pool/Getty Images Entertainment/Getty Images
Meghan Markle & Prince Harry Are Moving To A Cottage To Get Ready For Baby
It's a super exciting time right now for Meghan Markle. First off, she's a full on duchess after years of not being a duchess so that's pretty cool. She got married in May to Prince Harry, hence the new duchess role, and she even got her own tiara (which is essentially just as exciting). Markle also announced that she and Prince Harry are expecting their first baby in the spring, something the couple are obviously beyond happy about. And now it looks like they're relocating. Why are Meghan Markle and Prince Harry moving, you ask? Well they're going to be parents, guys, so they need some new digs in the 'burbs.
Until now, the Duke and Duchess of Sussex have been living at Nottingham Cottage on the grounds of Kensington Palace, according to Woman & Home. They did have the option of moving in next door to Prince William and Kate Middleton at Apartment #1 in Kensington Palace, but I guess they decided against it. Maybe they were worried their 20-room apartment next door to the Cambridge family of five would be too cramped for them or something. Because it looks as though Markle and Prince Harry are moving into their own digs a bit further afield in the new year, and don't even go thinking it's because they're fighting with Prince William and Kate Middleton because that's not it at all. It can't be, that would be too awful.
As Emily Andrews of The Sun reports, the couple will continue to have their professional offices based at Kensington Palace but they are planning to move into Frogmore Cottage on the Windsor Estate in the new year. The official statement from Kensington Palace reads, as per People:
The Duke and Duchess of Sussex will move to Frogmore Cottage on the Windsor Estate early next year as they prepare for the arrival of their first child. The couple have lived at Nottingham Cottage since their engagement last year. Windsor is a very special place for Their Royal Highnesses and they are grateful that their official residence will be on the estate. The Duke and Duchess's official office will continue to be based at Kensington Palace.
The Duke and Duchess of Sussex were married at Windsor Castle, as everyone on the planet clearly already knows, and their wedding party was held at Frogmore House on the same grounds. This 10-bedroom cottage was given to the couple by Prince Harry's grandmother, Queen Elizabeth, and is reportedly going under extensive renovations at the moment to transform it from staff lodging to a home for the new family, according to NBC News. One can only hope the royal family can find another palace on the grounds to house the staff who will presumably be uprooted and also can I have a job there?
Frogmore Cottage is a little more remote than Nottingham Cottage, which means the couple is essentially doing the royal version of moving to the suburbs once they have a kid. I like to think they will be afforded a little more privacy at Frogmore Cottage. That they'll have Prince William and Kate Middleton over for dinner. That Meghan Markle will roast a chicken and Prince Harry will build a swing set for the baby or something.
It's a nice picture, isn't it?
Season 2 of Doula Diaries shares the stories of fearless doulas helping their clients take control of their births and make tough choices that feel right to them. Watch the first episode of the new season Monday, November 26th.