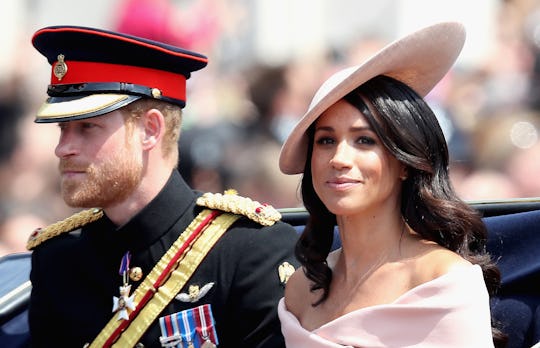 Chris Jackson/Getty Images News/Getty Images
Here's How We Know Meghan Markle Is A Tried & True Leo
It's not exactly uncommon for little girls to grow up dreaming about becoming a princess someday, but it's pretty much the definition of uncommon for a little girl to grow up and actually become a princess — especially when that little girl is the American daughter of a single mom, like Meghan Markle. That's why it seems like Meghan's fairytale fate must have been written in the stars... because it sort of was. As a Leo, Meghan Markle's zodiac sign proves she was destined for royalty.
If you're a Leo (or are acquainted with any), you know that the celestial lion isn't exactly a background player type. Leo is the sign of crowns and thrones, leaders and luminaries. "Just as the Sun rules the solar system, Leo rules the roost as the zodiac's reigning nobility," astrologer Christie Craft wrote for Nylon.
"Leo the Lion proudly wears the crown jewels as the kings and queens of the jungle."
Even before Meghan met Harry and began her official royal transformation, it seemed she was born to lead a less-than-ordinary life. Though she showed talent in a variety of areas, from blogging to fashion design to calligraphy, she could never seem to stay out of the spotlight. Clearly Prince Harry (who, don't forget, was starting to seem like he might do the playboy thing permanently) couldn't resist this fierce, fabulous lioness.
Thanks to Meghan's astrological pedigree, she was more than ready to take on the role of a lifetime. These are some of the ways being a Leo prepared Meghan for princess life!