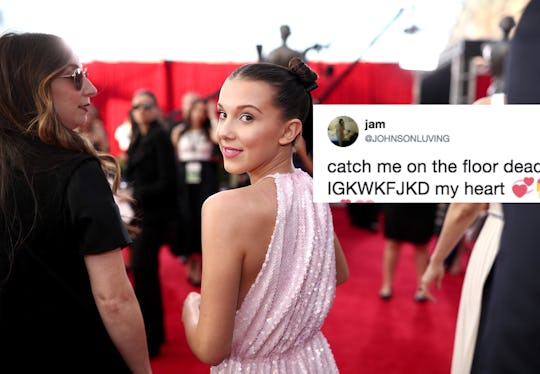 Christopher Polk/Getty Images Entertainment/Getty Images
Millie Bobby Brown Got The *Cutest* Birthday Message From Her Boyfriend, & The Internet Can't Handle It
Before all the kids, jobs, and responsibilities, there was puppy love—sweet, innocent, carefree puppy love. I grew up in the 1990s, so when two teens wanted to declare their undying adoration for each other, they exchanged notes in class or carved their initials with "4eva" in a desk. Nowadays, thanks to this thing called the internet, teens in love post heartfelt messages on Twitter or Instagram, but adult game to shame. Case in point: Stranger Things star Millie Bobby Brown just received the sweetest birthday message from boyfriend Jacob Sartorius, and the internet can't deal.
Brown turned 14 years old on Monday, and Sartorius obviously wanted to make sure that her special day started off right. On early Monday morning, the "Sweatshirt" singer took to Instagram to send Brown birthday wishes in what has to be the cutest message, according to Metro. To top it off, the 15-year-old internet celebrity paired his note with a selfie of the two teens cuddling, with Brown gently touching the side of his face, Metro reported. (A version of his birthday wishes also appeared on his Twitter account.)
Sartorius captioned his photo, "Happy birthday to this beautiful girl, 14!! you're the funniest, most caring person in the entire world."
He continued,
I hope this year brings you lots of great memories and moments you remember forever. Can't wait to see you, I love you and miss you so much!! Everybody go wish this girl a happy birthday @milliebobbybrown ❤️
How many hearteye emojis would be too many to use to respond to that tweet? Because awwwwwwwww.
This isn't the first time the sweethearts exchanged cute notes on social media. On Feb. 14, the Stranger Things star posted a photo on Instagram of the pair cozying up to each other, with the message, "Happy Valentine's day J," according to Teen Vogue. The "Chapstick" singer retweeted the post with a Valentine's Day message of his own.
Sartorius and Brown's relationship is so stinking adorable, I can't stand it. Their young love is so precious, that hopefully it stays this pure for years to come.
Of course, Twitter users agreed. Many of their fans labelled the couple "#goals," and called Sartorius' Monday morning tweet "the cutest -ish ever." One fan even wrote, "brangelina WHO?? they're quaking in their graves @ this new power couple." (I should note: Brangelina stopped being Brangelina two years ago.)
Not surprisingly, Sartorius' birthday tweet to Brown had quickly gone viral. It received over 4,200 retweets, nearly 27,600 likes, and more than 1,400 replies as of Monday afternoon.
Stranger Things fans began speculating back in January about whether or not Brown really had a boyfriend, after reports surfaced that the 14-year-old actor was dating the "Chapstick" singer. A source told US Weekly last month that the two teens were in a relationship; at the time, Romper had reached out to reps for both Brown and Sartorius regarding these reports, but did not receive an immediate response.
Why the internet became so obsessed about Brown's love life is still pretty confusing and out of the realm of my understanding. It seems she can't do anything, let alone breathe, without being bombarded with opinions and advice and judgments and questions. (Remember the outrage over the dress she wore to the 2018 Golden Globes?) You can just want to scream into the digital void, "Let the child live!"
But I digress. Sartorius and Brown seem to be absolutely smitten with each other, and I think that's just the bee's knees. I remember what it was like to be a teenager and love, and everything felt so fresh and new. So you two, keep being cute.