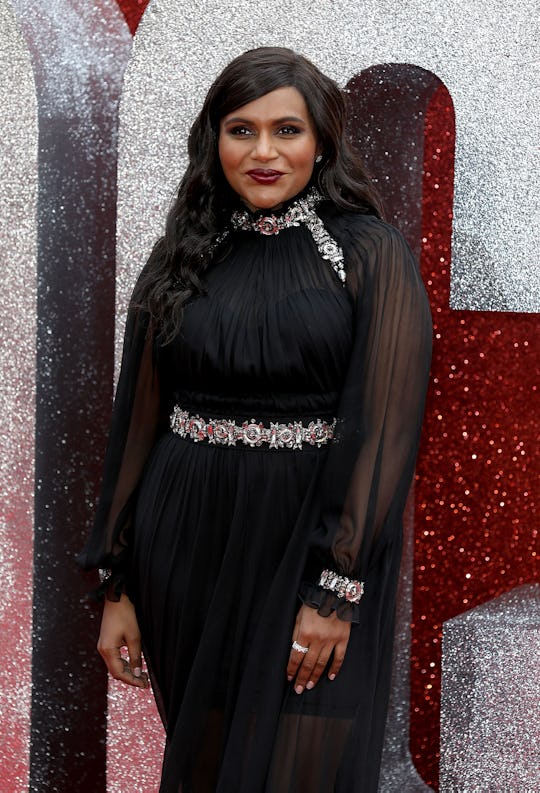 Tim P. Whitby/Getty Images Entertainment/Getty Images
Mindy Kaling's Latest Baby Food Recipe Looks So Good, Even Adults Would Eat It
In case Mindy Kaling ever gets bored of the whole movie star/writer/showrunner thing, she has a pretty great fallback career: baby food chef. On Sunday, she took advantage of her day off to prepare some noms for her daughter, and Mindy Kaling's latest baby food recipe looks absolutely delicious.
The actress welcomed her first child, a daughter named Katherine, in December 2017. She has previously mentioned that she loves to cook her baby girl's meals from scratch, so this weekend, she posted a detailed Instagram story showing fans how she makes banana date peanut butter for Katherine.
"Today I thought it'd be really yummy to make banana date peanut butter," Kaling said in her Instagram story, People reported. "This is one of those baby foods that like I legit would eat." The recipe contains three whole foods: bananas (cut them into small pieces), dates (make sure to de-pit them — "I don't think so, pits, not in my baby food," Kaling joked), and peanut butter (Kaling opts for organic peanut butter with no added salt from Trader Joe's). After adding all three ingredients to a blender, Kaling has a special step. "BTW: Always lick the spoon," she captioned a shot of herself doing just that. "Can't help it. Necessary. 100 percent necessary. Actually required," she added. I respect that.
Kaling then blended all three ingredients, and determined that some water would help even out the clumps. She poured in a little SmartWater, joking that she is not sponsored by them like Jennifer Aniston is, unfortunately.
Adding a bit of water did the trick, and Kaling did a taste test before giving the food her seal of approval. "This is so good. Should I have it instead of giving it to my daughter?" she said, according to People. She also wrote "Kit will love this!" alongside one post — her nickname for Katherine.
Kaling then packed the food away using a pretty genius hack — she portioned it out into a fancy ice cube tray called the Kushies Silitray, which she then labeled. According to Bed Bath & Beyond's website, the silicone trays can be used for freezing homemade food or breast milk in perfect portions.
Earier this month, Kaling talked how much she loves making baby food for Kit in another Instagram story. In the story, which was shared on YouTube by the Daily Mail, she said:
One of the most rewarding parts of my weekend is doing meal prep for my daughter because she's now eating foods. I never did this for myself before I had a kid.
Kaling also opened up about exactly why she loves it so much — because it makes her feel more connected to her daughter when they are apart during the work week. She continued:
I know that there are so many good prepared organic baby foods out there you can buy, but because I work, I like making them on the weekends. It makes me feel like a part of my daughter's life.
Also in that Instagram story, Kaling showed off a few other baby food recipes, including sweet potatoes, green beans, mangoes, and poached salmon. I'm with Kaling on this one — all this food sounds equally as good for adults as it is for babies.
Not to mention, Kaling seems to be pretty thrilled that Katherine has moved onto solid foods. In April, Kaling joked to Hoda Kotb on TODAY, according to People:
For a while you just feed, change, diaper, sleep. It's zero feedback except for crying for the longest time ... And then you start wondering, "Does she care about me [or] know about me besides that I'm a food source for her?'
With a mom as cool and caring as Mindy Kaling, I have no doubt that Katherine already cares about her beyond being a food source.