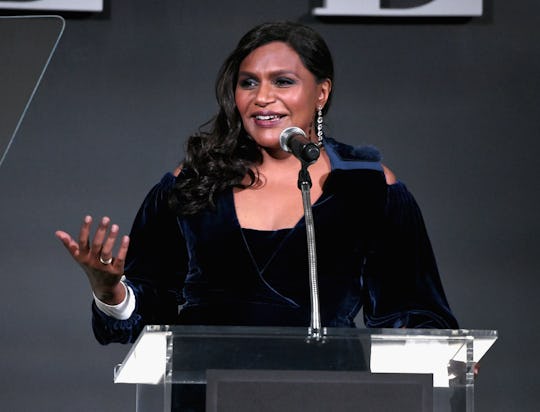 Michael Kovac/Getty Images Entertainment/Getty Images
Mindy Kaling's Christmas Party Decor Is A Callback To "Wreath Witherspoon"
It all started with a brilliant little bit on The Mindy Project called "Wreath Witherspoon." Prior to seeing a Christmas wreath covered with pictures of Reese Witherspoon, I had no idea that I would develop such a penchant for tasteful Christmas puns. But Mindy Kaling, via her on-screen alter-ego Dr. Mindy Lahiri, showed me what I was missing in my life: Holiday decor with a pop culture, kitschy twist. And now The Office star has taken her next-level idea to the next-next level. Mindy Kaling's "punny" Christmas party decor proves she has the market on lock. As if there was ever any doubt.
Anyone who follows Kaling on social media has some sense of how much she enjoys the holiday season. Her Instagram and Twitter feeds have both been filled with mentions of sugar cookies, holiday sweaters, and the best Christmas episodes of television to watch (lots of The Office, but let's not forget The Mindy Project had some of the best holiday episodes ever). And with Christmas just days away, Kaling is doing a brilliant callback to her good old Wreath Witherspoon idea from 2014, which became so popular the actual Reese Witherspoon posted about it last December with the caption, "Y'all are hysterical keep #WreathWitherspoon going! 😂 Which one is your favorite?!"
Kaling isn't one to rest on her laurels and just keep the same gag going forever; oh no. She improved and improvised. As the mom of one (daughter Katherine Kaling turned one year old earlier this month) wrote on Instagram:
I'm throwing a holiday party tonight. It's going to be very punny... 🎄🎉 Swipe for all my festive decor inspired by #WreathWitherspoon
How about a little "Ginger-Fred Armisen" to honor the legendary co-creator of Portlandia? Don't mind if I do!
Are you still eating regular old candy canes? Well probably still eat them, but maybe consider wrapping your presents with Michael Candy Caine-specific paper. Because you don't actually want to eat a version of the Oscar winning actor, guys, that's just gross.
Do you think regular snowflakes are boring? Yeah, me too. I would far prefer to decorate my home with Margaret Cho-flakes.
Sometimes, when a basic mom like myself is getting a little worn down by all of the thoughtfulness and selfless giving of the holiday season, I might need a little something just for me. Something to make me feel all warm inside, but maybe in a different way. So thank you, Mindy Kaling, for this Chris Pine tree. I'll take two please, one for the living room and one for my bedroom.
Or if you're not a Chris Pine fan, perhaps you might prefer a Matthew McConau-tree. I'm sticking with Pine.
Last but not least, the piece de resistance, the idea I never considered and am now kicking myself. Especially considering she first sang "Have Yourself A Merry Little Christmas" in Meet Me In St. Louis. Presenting... Judy Garland. There are no words.
I know it's a little late in the game to reconsider your entire decor for the holidays. So maybe do what I'm doing and bookmark for next year. And thank your lucky stars that Mindy Kaling is such a Christmas queen, a crown I know she would wear with equal parts joy and irony.
After a very frustrating first birth experience, this Deaf mother wanted a change. Will the help of two Deaf doulas give the quality communication and birth experience this mom wants and deserves? Watch Episode Four of Romper's Doula Diaries, Season Two, below, and visit Bustle Digital Group's YouTube page for more episodes.