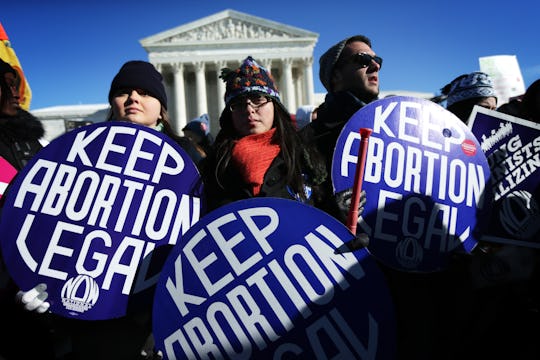 Alex Wong/Getty Images News/Getty Images
8 Things People Need To Stop Saying About Moms Who've Had Abortions
When it comes to controversial topics, abortion either at the top or close to the top of the list. Which is surprising, considering a reported 69 percent of Americans support Roe v Wade and do not want to see it overturned, and one in four women will have an abortion before they're 45. Still, anti-choice rhetoric is pervasive, and those in power who are against a woman's right to choose are usually loud. Very loud. That's why there's seemingly no end to the list of things people need to stop saying about moms who've had abortions, especially since those moms definitely aren't alone.
According to the Guttmacher Institute, 59 percent of the women who have abortions already have at least one child at home. In other words, the majority of people who are terminating their pregnancies are moms. They're people who've been pregnant before, have had babies before, and who know just how complicated pregnancy, labor, delivery, postpartum, and parenting can be. They're the people we, as a society, have trusted to raise the next generation, which makes certain people's failure to trust their decision to end a pregnancy all the more perplexing.
I had my own abortion after having lost one baby to premature birth, and after nearly losing the other. Between my post traumatic stress disorder (PTSD) struggles, the financial issues my partner and I were experiencing, and the physical trauma I endured while bringing my son into the world, I knew it wasn't the right time to have another baby. I have zero regrets about my decision, and zero doubt that the choice I made was the best choice not only for me, but for my son, my partner, and our family.
As women, and as mothers, we know what's best for ourselves, our families, and our futures, which is why we're tired of the shame and stigma attached to such a common, safe medical procedure. So if you have a mom-friend who has had an abortion, feel free to avoid saying the following and, you know, choose to be supportive instead.