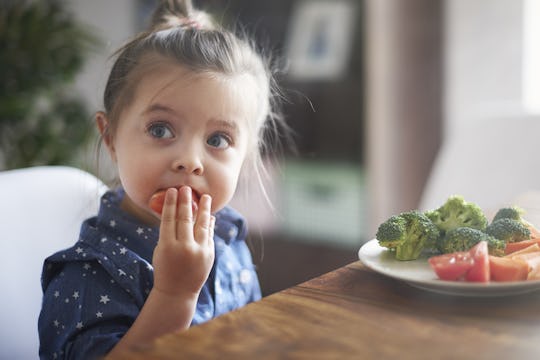 gpointstudio/Shutterstock
8 Things Your Kid Really Means When They Say "I'm Not Hungry"
When my son was 1, he ate like a champ. Whatever I put in front of him, without question, he devoured enthusiastically. Pesto and noodles with organic chicken and tomatoes. Roasted potatoes with onions and peppers. Scrambled eggs with mushrooms and spinach. I was so proud of him and, more importantly, so proud of myself. Then my son turned 2 and, all of a sudden, constantly claimed he was never hungry. Like, never. Ever. My picky eater always had an excuse for skipping a meal, usually dinner, and I learned very quickly that "I'm not hungry" can mean a wide variety of things.
I don't know what happens to our children, but sometime after their second birthday they start to develop, oh, I don't know, like preferences and stuff. Sadly, my son's preferences were extremely limited... and usually of the chocolate and/or ice cream variety. And since I have a complicated and at times toxic and unhealthy relationship with food, I've never wanted to sit my son down at the dinner table and force him to eat when he doesn't want to. So there were days, my friends, when I feared my son was literally starving.
Of course, he wasn't. When kids are hungry they will eat, and since adjusting to his very limited palate I have learned that providing him with one or two options, and that's it, limits the number of dinnertime battles I'm left fighting.
So if your kid is never "hungry," but somehow manages to find room for an after-dinner snack, know that you're not alone. Chances are, when your kid is claiming to house a full belly, they really mean the following: