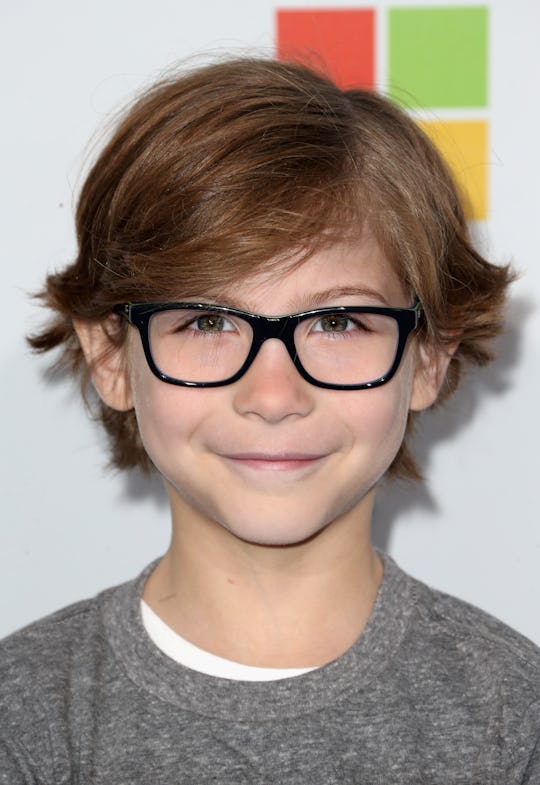 Frederick M. Brown/Getty Images Entertainment/Getty Images
Neel Sethi & Jacob Tremblay Had The Cutest Twitter Exchange Ever, So Be Prepared To Melt
Do you want to know what's gross? When talented actors get jealous and throw shade on each other. We see it all the time: some actor has a Real Moment, when their name is all over the news and they are the media darling until someone new comes along to steal a little of their sunlight. Then the claws come out, the shade is thrown, and we're all worse off for it. They could learn a little something from the 13 and under set in Hollywood right now. Neel Sethi and Jacob Tremblay just had the cutest Twitter exchange, and unwittingly gave everyone a well-earned lesson in how to be a class act.
Canadian-born Tremblay is known all over as the precocious young actor from the Oscar-winning film Room, the movie about a woman and her child held captive for years on end in an enclosed space. Tremblay made a name for himself on the awards circuit this winter for being not only adorable, but gracious and sweet (plus, his parents are crazy beautiful, even by Hollywood standards, just as an FYI). As a young boy who has suddenly been thrust into a pretty favorable spotlight, people would have understood if he had been a little jealous of a new rival for most adorable, talented pint-sized actor in Hollywood. That rival being Neel Sethi, the young star of Disney's latest smash hit The Jungle Book. Sethi played the iconic role of Mowgli with such earnest enthusiasm that he has been receiving rave reviews across the board. And one of his most adorable reviews to date came from our classy little pal Jacob Tremblay on Twitter.
I bet you can't even, right? Not only does little Tremblay give Sethi a lovely, classy shout out ("you were totally awesome man!!!"), our new favorite Mowgli answers with a compliment of his own ("thanks so much, means a lot coming from you!").
And now, I need these two to hang out and become actor best friends in the grand tradition of Leonardo Di Caprio and Tobey Maguire. They already have two important things in common; they are both talented actors, and they both seem like pretty normal kids. The Indian-American star Sethi recently said he wanted to grow up to become a dentist, while Tremblay wishes he could time travel back to see the dinosaurs, so he could come back and tell Spielberg how to get their color right next time. Pretty average kid stuff, in my opinion. How refreshing.
These two young stars are setting the gold standard for actors (and adults) everywhere by simply enjoying each other's talent. Of course, this isn't the first time Tremblay has publicly enthused about the talent of a fellow actor. He was adorably supportive of his Oscar winning co-star Brie Larson throughout awards season, and we all remember his shoutout to Chris Rock ("I loved you in Madagascar!") at the 2016 Oscars.
So what's next for these two kind-hearted, generous young actors? A Jungle Book sequel has been confirmed by Disney, so we're hoping to see Sethi reprise his role as Mowgli, of course. And Tremblay is starring as a creepy foster kid with the power to make his nightmares happen in the upcoming horror flick, Before I Wake.
Honestly, does Disney not have something a little lighter for this kid? Maybe they can give Mowgli a new best friend!