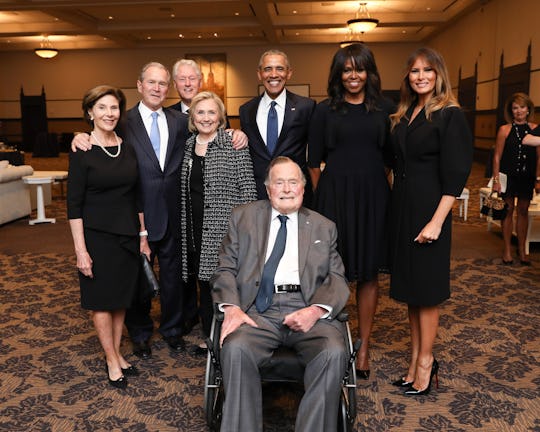 Handout/Getty Images News/Getty Images
Obama Responds To George H. W. Bush's Death & People Are Getting Emotional
President George Herbert Walker Bush died at his Houston, Texas home on Friday at the age of 94. There's this interesting thing that happens when a former president dies, I think. People who disagreed with his politics might struggle to find a way to be diplomatic about his passing. The reality is that life is complicated, and humans are more so. And when someone dies you want to be respectful to that person's family, and try to honor the good in their lives. Which is exactly what happened here when President Obama responded to George Bush's death in a truly touching way.
George H. W. Bush served as the 41st President of the United States from 1988 to 1992. He was known for his strong foreign policy stance while in office and for his reputation as a thoughtful political elder after. He died a little more than six months after Barbara Bush passed in April, his wife of 73 years. Since Bush's death on Friday, political leaders have been sharing their condolences and remembrances of the former president on social media, as The Daily Beast reported, including Bush's son and 43rd president, George W. Bush, and President Barack Obama. The 44th president remembered Bush as a "patriot and humble servant" in his tribute on social media.
Obama wrote in his tribute that Bush should be remembered not just for his service as a president, but "for the more than 70 years he spent in devoted service to the country he loved — from a decorated Naval aviator who nearly gave his life in World War II, to Commander-in-Chief of our Armed Forces, with plenty of posts along the way. Ambassador to the United Nations. Director of Central Intelligence. U.S. Envoy to China. Vice President of the United States."
Obama wrote of Bush's many political accomplishments, including ending the Cold War "without firing a shot." But he also wrote of Bush as a man of service and humility in his Facebook post:
After seventy-three years of marriage, George and Barbara Bush are together again now, two points of light that never dimmed, two points of light that ignited countless others with their example — the example of a man who, even after commanding the world's mightiest military, once said "I got more of a kick out of being one of the founders of the YMCA in Midland, Texas back in 1952 than almost anything I've done."
Social media users shared their reaction to Obama's thoughtful post.
This is the way a person responds to the death of someone they respected, whether their political beliefs aligned or not. This is how you honor someone's memory in a way that will no doubt bring comfort to their family. This is the sort of post that reminds people of the kind of president we once had; someone with grace and kindness and respect.
When people take a little time to think back on the life of George Herbert Walker Bush today, I hope they choose to remember the words of Barack Obama. And I hope they choose to remember him well.