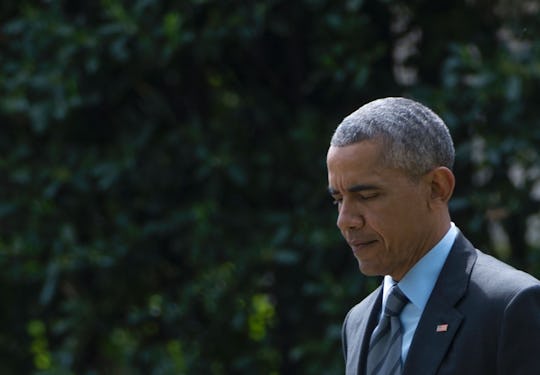 MOLLY RILEY/AFP/Getty Images
Obama's Prince Tribute Proves The President Was A Fan
Hours after news hit that iconic artist Prince had died at 57 years old, President Barack Obama issued a statement about the loss of one of the industry's most (dearly) beloved musicians. On the White House Facebook Thursday, Obama wrote about Prince's death, calling the artist a "creative icon."
Obama was hardly the first person to issue kind words about the "Purple Rain" singer, a hitmaker whose career spanned three decades. Following the surprising news of Prince's passing, celebrities, fans, and celebrity fans all headed to Twitter to share their memories of Prince and his music, as well as their shock surrounding the singer's death, which seemed to happen all too abruptly.
Once the reality set in, Obama stepped up to share his thoughts about Prince, even going as far as to quote the singer while celebrating his spirit. Referring to Prince's quote that doubles as an ode to weirdness, "A strong spirit transcends rules," Obama wrote that, "nobody's spirit was stronger, bolder, or more creative."
And that spirit was strong enough to attract fans of all kinds throughout Prince's time in the industry. The fact that everyone, no matter their background or standing, is mourning Prince showcases just how influential and relatable he was.
A creative icon, indeed.