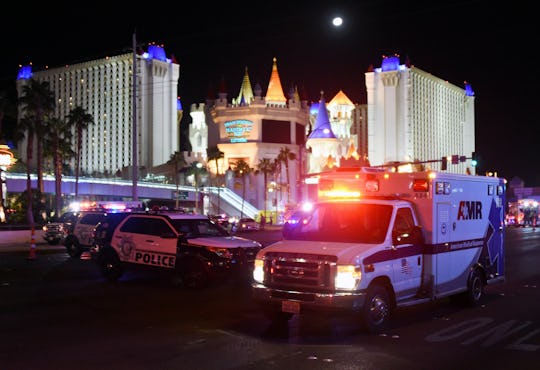 Ethan Miller/Getty Images News/Getty Images
Here's What We Know About One Of The First Known Las Vegas Victims
Much of the country woke up Monday morning to the astoundingly awful news that at least 50 people at a Las Vegas country music festival had been killed by a gunman the night before. As local authorities work to control the scene and online debates rage over whether or not this is the time to talk about gun safety or whether the crime, perpetrated by a white man, should be called terrorism, details about the dead and the wounded are beginning to eke out. And according to The New York Daily News, an off-duty police officer is one of the first Las Vegas victims whose story is entering the national consciousness.
Update: As of 6 p.m. ET on Monday, Oct. 2, CNN reports that 59 people have died and over 500 people were injured. Authorities say the suspect had 18 additional firearms, explosives and several thousand rounds of ammo at his home in Mesquite, NV.
The name of the officer, who is a fatality of what is now being called the deadliest mass shooting in American history, is not yet public knowledge. But soon, once identities have been confirmed and family members have been notified, the officer's name, image, and details about their life — along with those of the other victims — will briefly capture the nation's hearts. Outrage that a 64-year-old named Stephen Paddock allegedly managed to murder these attendees on the final night of the three-day, outdoor Route 91 Harvest Festival from an adjacent high-rise hotel will burn hot.
Many Americans will reflect on the scene of chaos — from which more than 400 injured people were taken to nearby hospitals, according to The Washington Post — that this caused. They will consider that, if Las Vegas in particular and the United States in general had stricter gun laws, perhaps this never would have happened at all.
And then, because Congress has again and again proved itself unable and unwilling to pass meaningful gun safety legislation in the wake of such mindbogglingly horrific, and uniquely American, tragedies as the one that has Las Vegas reeling, the country will move on knowing that this can, and probably will, happen again.
Which is just another reason why it's so essential to focus on the victims, the actual people whose friends and family members will now never seen them again, right now. The officer who died, for example, was one of a group of off-duty officers who were attending the festival during their free time. The festival boasted a crowd of 22,000, and on Sunday night relentless gunfire bombarded it from the Mandalay Bay Resort and Casino across the intersection, ABC News reported. Others in the same group oas the off-duty officer were injured, Clark County Sheriff Joe Lombardo told The New York Daily News.
In a news conference recorded by CBS News, Lombardo confirmed that at least some of the officer-casualties were from him jurisdiction, and revealed their heartbreaking statuses:
One [officer] was critical but he's stable, and one of my officers was off duty attending the concert and lost his life.
Aside from the massive amount of innocent victims for whom an evening at a music festival morphed into the bloody nightmare that would end their lives, the alleged shooter is also dead. According to The Las Vegas Review-Journal, authorities discovered the man on the 32nd floor of the hotel from which he is believed to have targeted the music festival and those enjoying it. He was reportedly shot and killed by police, and there were more than 10 rifles with him at the time of his death, ABC News reported.
Soon, authorities will release the names of those who were killed and injured in Las Vegas Sunday night. Americans will empathize with their families; politicians will send their thoughts and prayers. Public servants such as the murdered officer will be extolled as heroes.
Let's not forget their names of their stories. Let's honor their legacy by taking concrete action to prevent such a mass shooting from happening again.