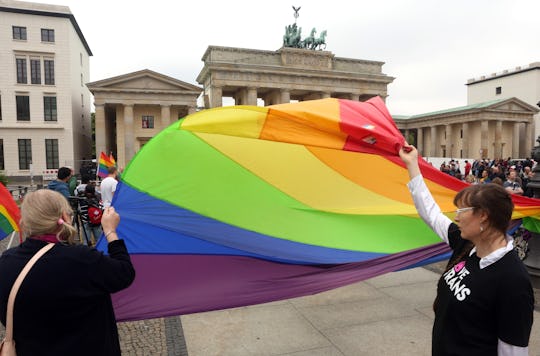 Adam Berry/Getty Images News/Getty Images
Orlando Pride Facebook Filters To Use, Because The LGBT Community Needs Support
Forty-nine victims are dead and an additional 53 are wounded, making the Sunday attack at Pulse, a popular Orlando nightclub, the deadliest mass shooting in modern American history. The fact that Pulse is a gay club has only heightened the sense of heartbreak and pain, because the terrorist attack also has the markings of a hate crime. Just as Pulse used its Facebook page to alert club goers and the world of the surreal, unbearably tragic events happening behind its doors Sunday, many now want to use the social media site to employ Orlando pride Facebook filters to stand with the reeling LGBT community.
Amid all of the chaos after the gunman entered with his assault rifle and semiautomatic shortly after 2 a.m, the club posted a cryptic, terrifying message to its Facebook page: "Everyone get out of pulse and keep running." The shooting evolved into a three-hour hostage situation before authorities killed the gunman, and eyewitness accounts of what happened during that timeframe are absolutely harrowing. In the aftermath, information surfaced that the gunman acted after becoming enraged at the sight of two men kissing, and many felt a renewed indignation that many gay men are barred from donating blood, even when so many of the injured from the event desperately needed it.
Even though it's LGBT pride month, it seems now that lesbian, gay, bisexual, and transgender Americans are more beleaguered than ever considering the massive act of violence perpetrated against their community. Changing a Facebook filter won't solve the discrimination and hate LGBT people deal with, but it will show that, as comedian John Oliver succinctly said Sunday night, "that terrorist dipshit is vastly outnumbered." In addition to speaking out against the hate and calling out friends who are hateful, here are some filters allies can use to stand with the LGBT community:
Rainbow Filter
Just as they did when the Supreme Court voted to legalize same-sex marriage on a federal level last year, many are overlaying their Facebook profile pictures with the LGBT pride flag. It's super easy to do using a site appropriately called Rainbow Filter, and Romper's Allison Piwowarski provided a handy step-by-step guide for anyone who wants to go that route.
GLAAD Filter (#WeAreOrlando)
The LGBT advocacy organization GLAAD's slogan is "accelerating acceptance." Although Sunday's shooting can make it seem as though we're moving in the other direction, it's important to remember that the actions of one hateful person are not indicative of the feelings of the nation as a whole. So GLAAD didn't waste any time after the tragedy coming up with its own Facebook filter for anyone to use. To do so, simply visit the organization's Facebook page and click "try it" on the pinned post. It's a simple adornment of the pride flag and the words "We Are Orlando," but it's quite powerful.
LGBT Rights
By using the filter provided on this Twibbon page, social media users can simply and beautifully show their support for the LGBT community. Simply head to the site to add a rainbow to the bottom right corner of your profile picture.
#ENOUGH End Gun Violence
Although this one isn't directly related to Orlando or LGBT people, it's certainly applicable to the weekend's horrific events in Orlando. The Brady Campaign to end gun violence has a Twibbon filter that allows users to overlay their profile pictures with a call-to-action against gun violence. It's easy to use, and the sentiment will now have a very personal meaning for many in Orlando forever.
It's true that Facebook filters in the aftermath of a tragedy have become quite the flashpoint in some cases. For example, Facebook implemented a French flag filter after a series of coordinated terrorist attacks killed scores of people all across Paris last year, but didn't do the same for Middle Eastern nations that experienced similar trauma, leading many to decry the practice altogether. But publicly showing support for Orlando's LGBT community translates to support for lesbian, gay, bisexual, and transgender people all around the world. And right now (but also, all the time), they need all the love they can get.