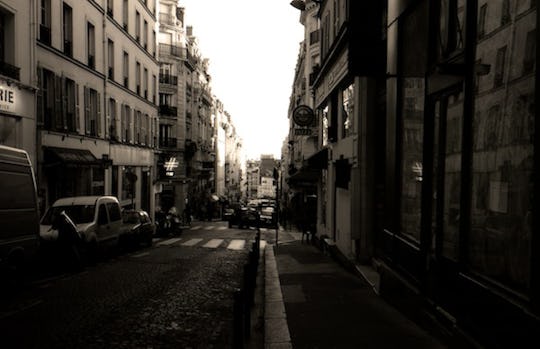 Osamu Kaneko/Flickr
Paris Attacks Leave The City Gripped With Fear, As Twitter Responds In Shock & Disbelief
UPDATE: One day after ISIS has claimed responsibility for the Paris terror attacks, France reportedly launched airstrikes against the militant group in Syria, dropping 20 bombs in the area. Some targets were destroyed, according to reports, but not much else is known about the airstrikes.
One of the suspected suicide bombers has been identified as Ismael Omar Mostefai. Authorities also confirmed that seven of the assailants have died, and the attacks were carried out by three coordinated groups. Paris police, however, are currently hunting for an eighth attacker who may still be at large, who has been identified as 26-year-old Abdeslam Salah.
Officials have confirmed that a police raid in Belgium led to the arrests of seven individuals who may have ties to the attacks.
On Saturday, French president François Hollande has also put the blame on ISIS, calling their actions an "act of war." Said ISIS in a statement released less than 24 hours after the attacks:
France needs to know it still remains at the top of the target list of the Islamic State.
The death toll currently sits at about 130, with over 350 wounded. (One of those killed was an American woman studying abroad in France.) According to French Prosecutor François Molins, nearly 100 of those wounded are critically injured.
EARLIER: All of France — as well as the rest of the world, for that matter — was left shocked Friday evening when news broke that multiple attacks across Paris had left over 100 dead. The details themselves, which kept pouring in minute-by-minute, were beyond disturbing, and are likely to become even more so in the coming days. While initial reports out of Paris indicated that the attack was an isolated shooting, news quickly spread that the situation was far worse: Three explosions were reportedly detonated, dozens of bodies lay dead in the streets, and 60-100 people were taken hostage inside the Bataclan stadium at the center of Paris. In the end, the death toll was staggering.
The latest reports also claim that several gunmen are responsible for the attacks, though French police told press that they believe all attackers are dead. During a press conference Friday evening, French President Francois Hollande went so far as to say he knows who the perpetrators are, and that this was indeed a terrorist attack. "As I speak, terrorist attacks of an unprecedented scale are taking place in the Paris region," said Hollande during a national address. "There are several dozen dead, lots more wounded, it's horrific."But Hollande also took time to reassure the people of France that the gunmen, whoever they are, will not win. "We have to show compassion and solidarity and we also have to show unity and keep our cool. France must be strong and great," he said.
Following the national address, Hollande placed the city on lockdown and urged Parisians to stay inside. Meanwhile, at a press conference stateside, President Obama took time to comment on the attacks as well: "This is an attack on all of humanity and the universal values that we share," he said.
CNN also reported that French authorities have launched an official terrorism investigation. Though no one organization or terror cell has officially claimed responsibility, CNN reported that ISIS did send out a tweet "applauding" the attacks.
While details of what the city of Paris is facing continue to flood in, all of Twitter has been left both stunned and saddened, as many tweet with the hashtags #PrayForParis and #JeSuisParis. Others have even tweeted simply #PorteOuverte, as a means of letting others know their home is a safe haven.
Still, amid the outpouring of grief, shock, and utter disbelief, many are taking to Twitter to remind the world of city's unwavering resolve.
Image: Osamu Kineko/Flickr