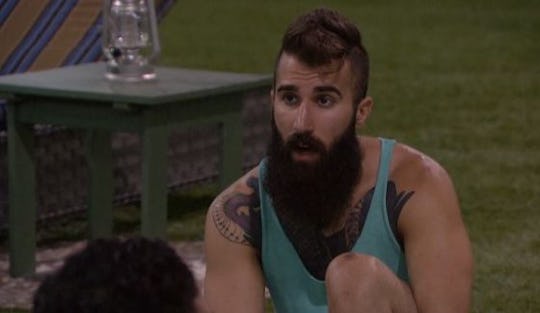 CBS
Paul Calls Out Nicole On 'Big Brother 18' & Helps Make Corey The Next Target
When Natalie won the Head of Household competition on Big Brother 18, we celebrated along with her because, let's be real, she's probably the nicest person in the house right now. But her big mistake as the HOH was putting up Paul and Victor instead of Nicole and Corey, since the reasoning behind putting up Paul proved to be pretty mild. Then, Paul calls out Nicole on Big Brother and things get super awkward. By calling out Nicole, Paul actually put a target on both Corey and Nicole, but once Paul won the Power of Veto competition, Corey was put up in his place.
Paul called out Nicole for lying about him and being some kind of master manipulator, being that she has never been up on the block for eviction all season and has managed to skirt by up until now, despite having plenty of enemies in the Big Brother house. Paul blamed his nomination on Nicole, who couldn't back up her claims of his shadiness without giving anyone else in he house away, so she was left to deny that his nomination was her fault. Paul demanded to know what Nicole told Natalie to convince her to put him on the block but, in true Nicole fashion, she wasn't willing to give up much of anything.
Meanwhile, we have Corey in what was probably his best moment on Big Brother 18 so far this season as he stripped down and did a happy dance, right in the middle of Paul and Nicole's heated argument. We all know that Paul did know a lot more in the house than he has let on and that all of the manipulating he's accused Nicole of is likely true about him too. The fact of the matter, though, is that by calling out Nicole and doing damage control with the majority of the rest of the house, he ended up making Corey a target.
Since we're now down to seven in the Big Brother house, there are going to be deceptions every week and pretty soon, it'll be every man and woman for themselves. And since Michelle has been gunning for Nicole and wanting the downfall of the showmances, the decision to put up Corey was obvious. Victor is a strong competitor and can be pretty scary, so getting him out of the house would be great for everyone else's games, but the evicted houseguest only needs two votes to have to leave.
That means that Michelle could convince Natalie, who will then convince James to vote out Corey. And then, Paul will obviously vote to evict Corey as well and that's that. Paul calling out Nicole on Big Brother was, according to Twitter, "everything" and kind of a long time coming for those of us who have waited for Nicole to have something bad happen to her this season. And, if things go as planned, it will also mean the downfall of Nicorey.