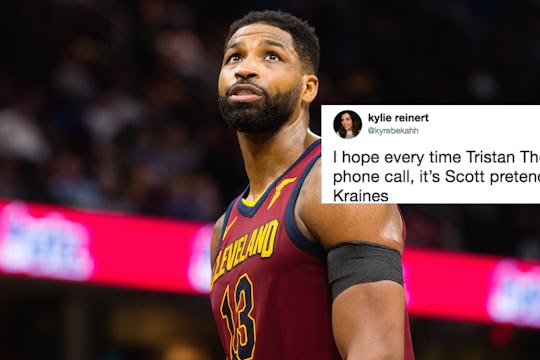 Jason Miller/Getty Images Sport/Getty Images
People Are Flooding Tristan Thompson's Instagram With Messages That Kind Of Miss The Point
Aside from the BeyHive, Khloé Kardashian fans are some of the most hardcore out there on the internet. They have her back, all the time. So when news broke last week that her boyfriend Tristan Thompson allegedly cheated on her while she was pregnant, people were understandably shook. But now, Khloé fans are leaving "I hope you..." comments on Tristan Thompson's Instagram posts and it's getting a little bit out of control.
Just in case you were in a bunker without any service all last week and missed it, the Daily Mail published a video that allegedly shows Thompson with another women in New York City just days before Khloé was due to give birth to their baby girl. (Romper reached out to Thompson's reps but did not hear back.) Khloé gave birth to her daughter reportedly on early Thursday morning, and Tristan was reportedly at the hospital in Cleveland, Ohio with her.
After the first video was posted, TMZ also released a video that allegedly shows Thompson with two woman from back in October. Romper's request for comment from both Kardashian and Thompson's teams was not immediately returned. And no one in the family has commented publicly about the allegations, so fans really have no confirmation that the man in the video is Thompson, or what Khloé knew about his alleged cheating, or anything else about the whole situation.
But that doesn't mean that fans aren't jumping to conclusions and leaving some of the most savage comments on Thompson's Instagram posts. Like, each and every post has thousands of ill wishes for the basketball player
On some level, the comments are pretty harmless. One says, "I hope every time you take a quiz to see which FRIENDS character you are, you get Ross." Another wishes that every time he orders food to get delivered, it arrives cold. Someone else wrote, "I hope your toilet paper runs out every time." One Khloé fan got really deep and told Tristan that they hoped he "falls asleep at a friend's house" and can't find a blanket.
Another person wrote, "I hope that someone talks through the next movie you see" and yet another wished that Thompson "always forget[s] why u were there when u enter a room." I mean, there are over 200,000 of these comments on basically every single Instagram pic he's posted
Others are a little more intense and actually wish Thompson harm, which is where things get a little icky. As much as fans are upset with Thompson for his alleged sins, wishing bodily harm on someone or that his "car runs out of gas on the interstate in the middle of rush hour" is never OK. Cyberbullying a celebrity is still cyberbullying. Please don't threaten Tristan Thompson on the internet people, even if it's just hoping that he steps on a Lego.
Amidst some of the actual threats, there are also a slew of comments hoping that Tristan "realizes" his relationship wasn't worth reportedly stepping out on, which really just speaks to how beloved Khloé is. People are relating very, very hard to this alleged cheating on Thompson's part.
Likely because Khloé's recent happiness just felt so well earned for fans who have been watching the family for years and years. She's been through so much in the love department, in front of the entire world, throughout the years. Also, Khloé loves love, and it's one of the things her fans (or at least this one) adore about her. Khloe's always been open about what she wants from life — to meet someone she loves and have a family of her own.
She married her ex-husband, Lamar Odom, within weeks of meeting him and then had to go through her divorce on her family's show and in the tabloids. It was heartbreaking to watch play out over the seasons of Keeping Up With The Kardashians.
So when she met Tristan, and gushed about their relationship and how happy she was, it felt like she had finally found what she was looking for after all that drama. It was like a real life, 21st century, realty TV fairy tale. Who knows? Maybe it still is.
But since fans don't get to see what really goes on in the Kardashian's life, and just what they post on social media or on their shows, they've jumped to the conclusion that the rumors of Tristan cheating on her are true and are heartbroken for their girl.
They're also really wishing some messed up things happen to Thompson, which again, is not a nice thing to do, even if it is kind of amusing to hope that his french fries are always cold. All the hate probably won't stop until Khloé addresses the rumors, if she's ever feeling up to it. Plus, it could be more proactive to support Khloé in a situation like this, versus use our energy to verbally take down Thompson.
In the meantime, if you're feeling triggered by the cheating rumors, rest easy knowing that Khloé's fans (and her family) has her back. Even if they're a little intense.