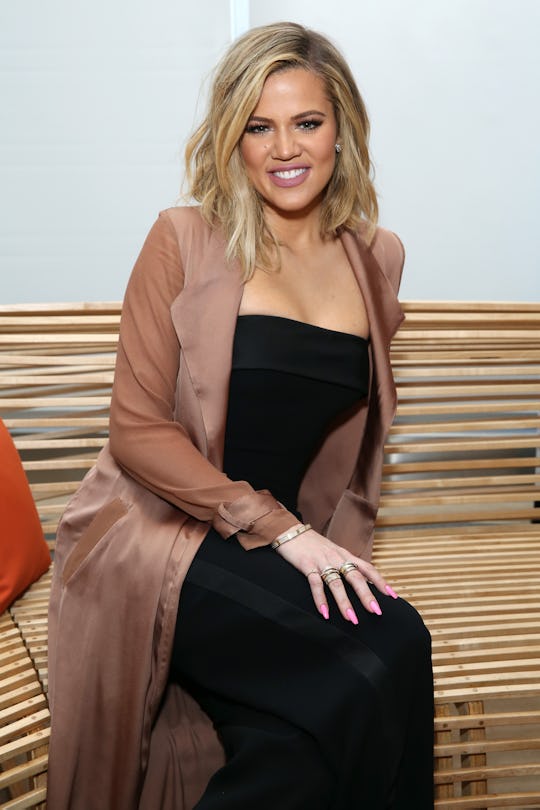 Cindy Ord/Getty Images Entertainment/Getty Images
People Really Think Khloé Kardashian Is "Hiding" Her Rumored Pregnancy In This Photo
For some of the Kardashian-obsessed out there, the holiday carol of the year is shaping up to be a creaky rendition of "All I want for Christmas is for Khloé and Kylie to reveal to me that they are actually pregnant already." Which is why fans have been desperately searching for "clues" in paparazzi photos of the reality TV moguls and their their social media posts and everywhere in between. Front and center in the bump watch effort has been the Kardashian-Jenner Christmas card, which the family has been rolling out daily on Instagram for most of December. But, alas, true confirmation continues to elude even those most dedicated to the cause, as many of them think Khloé Kardashian is actually "hiding" her rumored pregnancy in the latest installment.
Not too long ago, it seemed certain that fans would finally get a true glimpse of the sisters' rumored bumps at some point during the weeks-long unveiling of the Christmas card photos. And there certainly is still time for that Christmas wish to come true, but the latest photo, which marks Kardashian's third appearance in the series, makes the idea that she'll confirm the enduring rumors that she's reportedly expecting her first child with boyfriend Tristan Thompson feel farther away than ever.
That's because, in the photo, Kardashian holds her baby niece, Dream, on her lap, obscuring any view of her own belly... and again fueling the speculation that her own baby may be inside.
Lots of Kardashian family members grace the photo. Kardashian mom Kris Jenner and her mom, MJ Houghton, watch over sisters Kim Kardashian, Kourtney Kardashian, and Khloé Kardashian (with brother Rob's daughter on her lap). In the foreground are Kourtney's kids Mason Disick, Penelope Disick, and Reign Disick, along with the daughter Kim Kardashian shares with husband Kanye West, North West. Like the rest of the card photos, there is a lot of white and denim going on. And just like in the other photos that Khloé Kardashian appears in, her bump (if there is one) is nowhere to be soon.
This was not lost on fans commenting on the photo, posted to Kim Kardashian's Instagram account Tuesday:
Considering that fact that rumors of Kardashian's pregnancy — with anonymous "sources" sharing select details here and there — have been flying since the end of September, the theory is not so far-fetched. After all, Kardashian hasn't confirmed the rumors, but she hasn't exactly made any moves to deny them either. So, of course, keeping Dream on her lap to shield her belly from view would be the perfect plan to keep up with the coy non-acknowledgement of the rumors.
It's logical, right? Except... Well, Kardashian has been in the Christmas card series before, and, the other two times, she didn't have Dream (or anybody else) blocking her body. The first time, actually, on Day 13, the pic shows her with Dream on her hip as she stands at a distance from the camera, and she seems pretty bump-free. It threw the bump-watchers for a bit of a loop, understandably. And Kardashian's Day 17 appearance, also featuring Dream, did not necessarily suggest that she was (obviously) pregnant.
I don't think any of this evidence is definitive proof that Kardashian isn't expecting, though. Let's be real: Anyone responsible for photographing the Kardashians in a professional capacity certainly knows how to help them hide what they want to hide, and emphasize what they want to emphasize, too. Also, there's always that magic of photo editing, as well as the fact that no one really know for sure when the Christmas card photo shoot (which, judging the family's outfits, appears to have taken place over the course of one day) actually happened.
In any case, Kardashian's also rumored-to-be-pregnant sister, Kylie Jenner, has not been in any of the Christmas card photos released so far. Clearly, they're both going to keep fans guessing for the time being.
Check out Romper's new video series, Romper's Doula Diaries:
Watch full episodes of Romper's Doula Diaries on Facebook Watch.