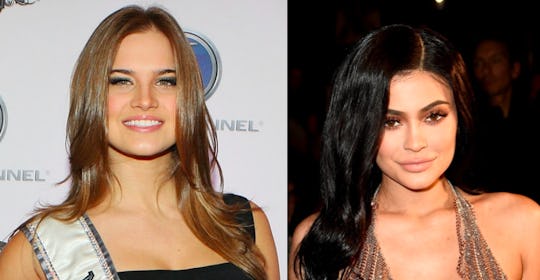 Mike Stobe/Getty Images Sport/Getty Images & Nicholas Hunt/Getty Images Entertainment/Getty Images
People Think This Model Totally Shaded Kylie Jenner For Naming Her Daughter Stormi
It looks like Kylie Jenner's baby is already at the center of some celebrity beef, which, to be honest, is not surprising. After the makeup mogul announced her baby's name on Instagram this week, some people think that this model shaded Kylie Jenner's daughter Stormi, all because they share the same name.
On Tuesday, Stormi Bree, a 27-year-old model and former Miss Teen USA 2009, posted a black and white picture of herself grimacing. She originally captioned it, "current mood" with a spider emoji. Had Kylie not just released her baby's name on the same social network hours earlier, it wouldn't have been a big deal at all. But of course, Kylie's fans noticed it and thought that it was a direct response to tiniest member of the Kardashian and Jenner family sharing her name.
People commented on Bree's photo, writing things like, "I'm not a Kardashian fan but it's just a name. Most people have the same name as someone else. Used to know a couple years ago that used the name. Get over it and move on." Another added, "no one's naming their child after YOU, girl."
Meanwhile, some other people called out these trolls for being so mean to the model, who later edited her caption to add a note, "goodness gracious that was bad caption timing lol."
So, no scandal, here, folks.
Bree, a former Miss Teen USA, is a mom herself, so it's really unlikely that she would be so, well...petty. In July, she and fellow model Lucky Blue Smith welcomed their own baby into the world, naming her Gravity Blue, according to People. Bree captioned an Instagram pic at the time of her family, "Welcome to the world little angel, the most perfect beautiful gift I could have ever dreamed of."
Really, there's no reason to assume that Bree has any problem with Jenner just because of a baby name, of all the things. While some of Kylie's fans are quick to jump to conclusions, it's important to remember that two successful women can exist in the world without always being in competition with each other. There's room for all of us, unique names and all.
Kylie announced her pregnancy on Super Bowl Sunday with an apology to fans at first on Instagram. She wrote in a statement that she posted to the social network that she was sorry for keeping fans in the dark. The lip kit mogul added:
I knew for myself I needed to prepare for this role of a lifetime in the most positive, stress free, and healthy way I knew how. There was no gotcha moment, no big paid reveal I had planned. I knew my baby would feel every stress and every emotion so I chose to do it this way for my little life and our happiness.
She thanked her friends, family, doctors, and everyone in her life for being so supportive and helping her stay physically and emotionally safe for the past nine months, too. To be fair, they really did have to go through a lot to keep her pregnancy under wraps since rumors broke in September that she was expecting, You really have to hand it to them.
Never one to disappoint, she then released an 11-minute video that documented the whole pregnancy and shared some of the most intimate moments with her fans.
She really came through with both the video and name announcements, and since it hasn't even been a week since she gave birth, that might be it for a while. The whole reason Kylie kept things private was to avoid gossip and ridiculousness like this, so if we want more news and updates about baby Stormi, fans should probably lay off the cyber-bullying on her behalf for a bit.
Check out Romper's new video series, Romper's Doula Diaries:
Watch full episodes of Romper's Doula Diaries on Facebook Watch.