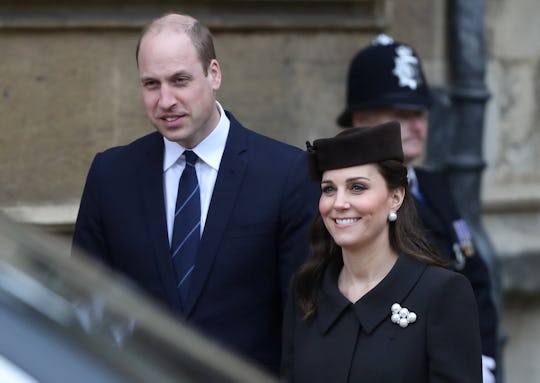 WPA Pool/Getty Images Entertainment/Getty Images
The First Photo Of The Third Royal Baby Is Here, & He Looks So Adorable
After months of anticipation, Kate Middleton and Prince William have finally welcomed their third child. Middleton gave birth to a baby boy on Monday, at 11:01 a.m. local time at St. Mary's Hospital in London, the same hospital where she welcomed Prince George and Princess Charlotte. And just like when she gave birth to her first two babies, Middleton briefly showed her new bundle of joy off from the steps of the hospital alongside Prince William, just hours after giving birth, allowing photographers to snap as many shots as possible. So far, only a few far away photos Kate Middleton's new baby have surfaced, but it's enough for excited fans.
Though Middleton and Prince William's appearance with their new baby was brief, it's easy to see that they are already in love with their new bundle of joy. Not to mention, I would imagine Middleton is a bit relieved that her pregnancy is over, considering how sick she was during her time expecting. Back in September, when Kensington Palace revealed that Middleton was pregnant with her third child, the announcement was not all good news. It read:
As with her previous two pregnancies, The Duchess is suffering from Hyperemsis Gravidarum. Her Royal Highness will no longer carry out her planned engagement at the Hornset Road Children's Centre in London today. The Duchess is being cared for at Kensington Palace.
Here are adorable pics of the couple and the new baby. I realize you can only see a sliver of his face, but it still counts.
Look at those little hands!!
AND HERE HE IS. (I think all caps are appropriate.)
Tim Rooke/REX/Shutterstock
Tim Rooke/REX/Shutterstock
When Prince William and the duchess came out onto the steps of the Lindo Wing, they posed briefly with the little one, whom reporters are calling "Baby Cambridge" for now. They didn't take any questions, though, according to Sky News' livestream. Though when a reporter shouted to Prince William and asked how he was doing, William reportedly shouted back, "thrice the worry."
It's unclear whether the couple will try for more kids, especially since Middleton suffered from severe hyperemsis gravidarum during all three pregnancies. Hyperemsis gravidarum is when a pregnant woman experiences excessive nausea and vomiting, as noted by the U.K.'s National Health Service. Those who suffer from hyperemsis gravidarum have been reported to vomit up to 50 times per day, and often need hospital treatment. As mentioned in Kensington Palace's press release, Middleton also suffered from hyperemsis gravidarum during her first two pregnancies. Honestly, huge props to Middleton for making it through her third pregnancy with her signature grace and poise, considering she probably had a feeling HG would strike her again. Plus, there was likely pressure on her to have multiple children in order to keep the line of succession going strong, and getting through three pregnancies with HG is no small feat.
And while the photos that dropped today are pretty exciting, there's a good chance that a much clearer photo of the new royal baby will emerge about four weeks from now. When Princess Charlotte turned 1 month old, Kensington Palace released a new portrait of Prince George gingerly holding his baby sister. "We're delighted to share the first photo of Prince George with his little sister Princess Charlotte," Kensington Palace tweeted at the time.
Is anyone else excited at the prospect of an all-siblings photo coming out a month from now? Or even better, at a siblings-plus-their-new-cousin photo coming out once Meghan Markle and Prince Harry eventually have their first kiddo? OK, OK, maybe I'm getting ahead of myself...
Check out Romper's new video series, Bearing The Motherload, where disagreeing parents from different sides of an issue sit down with a mediator and talk about how to support (and not judge) each other's parenting perspectives. New episodes air Mondays on Facebook.