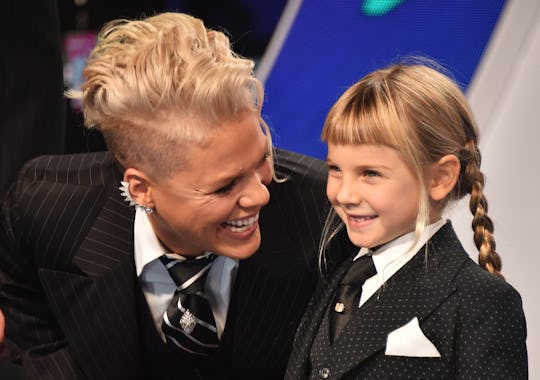 Frazer Harrison/Getty Images Entertainment/Getty Images
Pink Says She's Raising Her Kids As Gender Neutral In A "Label-Less Household"
Throughout her career, Pink has been all about empowering women and inspiring them to be whatever they want to be. So it makes total sense that Pink wants to raise her daughter gender neutral. According to the Daily Mail, the 36-year-old mom and her husband Carey Hart are raising Willow, 6 years old, and 11-month-old Jameson in a "label-less household." The impetus? Little Willow telling her parents that she wanted to "marry an African woman."
Pink told the Sunday People of her response, "I was like: 'Great, can you teach me how to make African food?' And she's like: 'Sure mama, and we are going to live with you while our house is getting ready.'"
At 6 years old, it's hard to really plan for the future, but Pink and Hart are happy to live without labels. "We are a very label-less household," Pink said, according to her interview with Sunday People. She added that she had recently been to a school where in front of the kindergarten bathroom, there was a gender neutral sign.
"I thought that was awesome. I love that kids are having this conversation," Pink told the publication.
This isn't the first time that Pink has made our hearts melt with her parenting methods. While accepting the Video Vanguard award at the MTV VMAs in August, she gave an empowering speech about beauty standards and little Willow.
According to Pink's speech, Willow came home and said that she felt like the "ugliest girl in the world" and that she looked like a "boy with long hair." So, Pink did what any protective and obsessive mom would do — she made a PowerPoint presentation with images of all the androgynous icons she could find, like David Bowie, Janis Joplin, Prince, and Annie Lennox. Then, during her speech, turned it around on Willow:
But then I said, "You know, I really wanna know why you feel this way about yourself." And she said, "Well I look like a boy," and I said, "Well what do you think I look like?" And she said, "Well you're beautiful." And I was like, "Well, thanks. But when people make fun of me, that's what they use. They say I look like a boy or I'm too masculine or I have too many opinions, my body is too strong."
Pink added:
And I said to her, "Do you see me growing my hair?" She said, "No, Mama." I said, "Do you see me changing my body?" "No, Mama." "Do you see me changing the way I present myself to the world?" "No, Mama." "Do you see me selling out arenas all over the world?" "Yes, Mama." "OK! So, baby girl. We don't change. We take the gravel and the shell and we make a pearl. And we help other people to change so they can see more kinds of beauty."
Ugh, don't you just wish Pink would come and give you motivational speeches every morning before you get out of bed? Pink's body positive and inclusive messaging is more than just a good parenting move. It can have lasting effects. If Willow and Jameson do eventually grow up to identify as LGBTQ, studies have shown that family and community support means everything.
LGBTQ youth are at a higher risk for depression and one third of them have attempted suicide, according to the Centers for Disease Control and Prevention, than teens who identify as straight. But those who grow up feeling accepted by their family and have support are way better off.
The Family Acceptance Project has done research that links a family's response to their LGBTQ teen to "sexual health, HIV infection, substance use, depression, suicide and well-being," meaning that the more love and support a kid gets to be themselves, the better off they'll be later in life.
Of course, it's way too early to know if Willow will stick to her plan when she grows up, but Pink's plan to keep things label-less and gender neutral is a common sense approach to raising emotionally healthy kids
Check out Romper's new video series, Romper's Doula Diaries:
Watch full episodes of Romper's Doula Diaries on Facebook Watch.