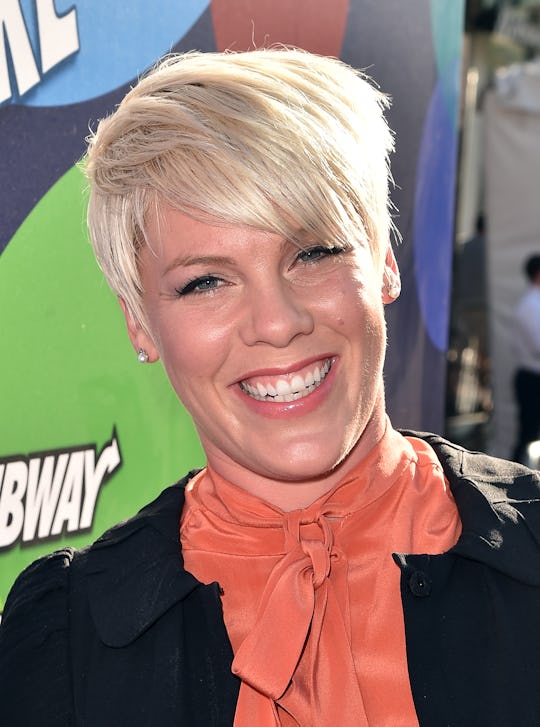 Kevin Winter/Getty Images Entertainment/Getty Images
Pink's Latest Photo Of Baby Jameson Is Too Cute
Since she welcomed her second child, a son — arguably one of 2016's very few positive parting gifts — Pink has provided an endless stream of adorable photos of her family. The pop superstar has also been busy delivering her signature empowering, energetic music to her fans, having dropped a new single with Sia Friday — and it was on that same day that Pink's latest baby photo of little Jameson graced Instagram. In it, the beaming mother's joy is reflected in her son's insanely cute tiny baby smile.
"We just wanted to say 'hey thanks!' To Sia and stargate and all the lovely humans showing us so much love for our little song on the radio," the 37-year-old captioned the post, including a shoutout to the Norwegian production duo that brought the song, "Waterfall," to the world. "I love singing, I love Sia, I love this little guy and I'm stoked you all love it. Carry on.... TGIF."
It's easy to see why she's so enamored with Jameson, who joined the family — which includes Pink's husband Carey Hart and the couple's 5-year-old daughter Willow — on Dec. 26. In the photo, he's nestled up against her shoulder and smiling the closed-lipped, slightly drool-y smile of the most contented baby on earth, sharing in the shade of his mom's wide-brimmed hat on a perfectly sunny day.
This is far from the first time the 2-month-old has wowed the 'Gram. Shortly after he was born, Pink posted a sweet snap of Willow (who even had some pink streaks in her hair!) cradling her new little brother in her lap. The "So What" singer also showed off her own humor alongside she baby's precious face when she put him a couple of funny onesies. One read "Straight Outta Mumma" in the Straight Outta Compton style, while the other referenced a hit song by another famous mom, Adele. "Hello, it's me," the all-too-accurate baby apparel announced. "I must have cried a thousand times."
Clearly, family rules for Pink, even when it comes to advocating for equality. She brought along the entire family — including a then-3-week-old Jameson — when she attended a California Women's March post-inauguration in January. But her art is still incredibly important to her, too, which is why we now have the dance hall-esque gem "Waterfall."
Between being the mother of two of the cutest kids around and keeping her music game strong with a new release so soon after giving birth, Pink is obviously killin' it both inside the studio and out.