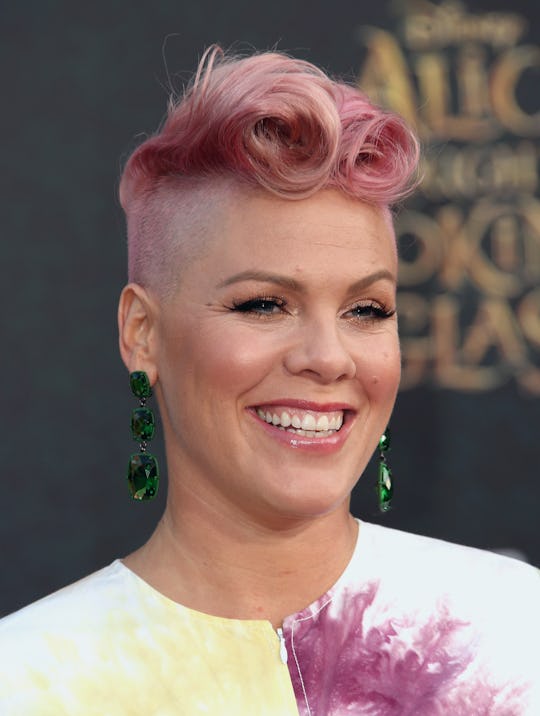 Frederick M. Brown/Getty Images Entertainment/Getty Images
Pink Brought Her Baby To The Women's March
For many attending the Women's March Saturday — whether the main event in the nation's capital or one of the hundreds of sister marches across the country and world — one of the main incentives was to advocate for a better future for children. Or to teach them how to stand up for what's right. Or to prove them them that their voices matter. Or to teach them not to submit to the orange man in the White House. Whatever the reason, the youngest generation was also out in force, and that's includes babies. And one notable example of inspiring the littlest among us was singer-songwriter Pink, who took her baby to the Women's March, along with the rest of her family, to support human rights across the board and promote unity across all demographics.
The 37-year-old singer headed to a march in California Saturday waving a sign in the air with her newborn son, Jameson, slung across her chest. In an Instagram photo of the family (and truly global) affair, mother and baby pose with her husband of a decade, Carey Hart, and the couple's 5-year-old daughter, Willow. "We march together," she captioned the sweet and powerful snap simply, showing the world once again what a badass person and mom she is.
Pink and her family joined in on making history Saturday, on the first full day of Donald Trump's presidency. Current estimates indicate that about 500,000 people likely converged on Washington, D.C. for the march there, and that more than 1 million rallied worldwide for the myriad causes — from equality for LGBTQ+ people to solidarity with The Movement for Black Lives to reproductive justice to immigrants' rights — reflected in the march's mission. Pink's sign read "Unity, love, equality, and a dash of nasty," while her daughter's homemade one sent another simple but powerful message: "I'm strong, I love."
So many parents brought their children to the march, just as Pink did, and they all had their own personal, political, and moral reasons for doing so. One mother at the a March on Washington told Romper's own Danielle Campoamor that he 8-year-old was there with her because she "loves everyone, and wanted to march for everyone," for example. And Mona Osuchukwu brought her 3-year-old daughter, Chioma, to the march to show her how valuable her thoughts and opinions are. "I want her to know that she has a voice," she told The Washington Post. "No matter what anyone tells her, especially as a black woman in America."
And just having the very youngest Americans , the ones who don't yet understand any aspect of the situation and will never remember firsthand that they were there — like Jameson, who is only 3 weeks old – at the march was so, so important. Women like Pink who came out to march toting their newborns created powerful imagery to show how strong and capable women are. Now that we have a president who has referred to women as "dogs," joked about grabbing their private parts, displayed his belief that child care is solely a woman's responsibility, and dismissed pregnancy as inconvenient for business, this display of pride and the amazing ability to multitask (like, watching after kids and fighting for their own and others' rights) is perhaps more crucial than ever.
So, in addition to the star power Pink brought to the cause, that she and other moms brought their babies and children along allowed for perhaps some of the best optics of the marches (along with the creative signage, of course). Take, for example, the woman Time's Natalie Keyssar photographed breastfeeding at the D.C. march, while watching her two daughters play nearby. She, like Pink, demonstrated not just in favor of human rights but exactly how much women can and will continue to do.