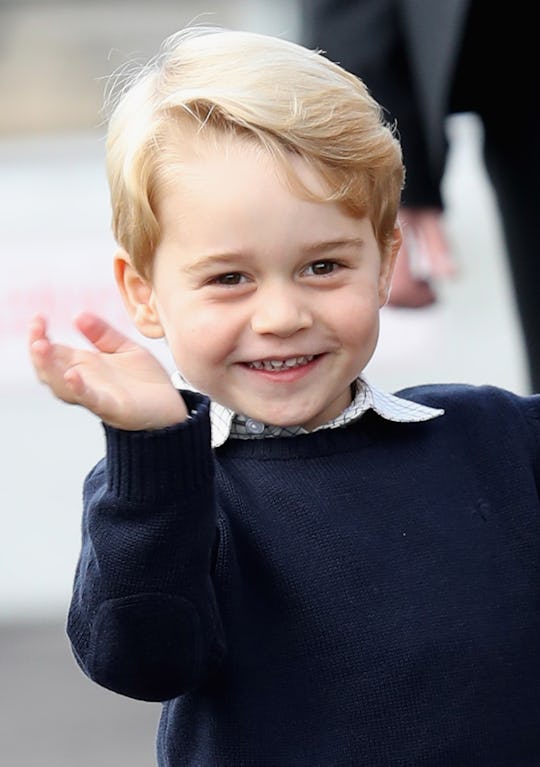 Chris Jackson/Getty Images Entertainment/Getty Images
Is Anyone Surprised Prince George, 5, Has Already Been Deemed A Fashion Icon In The U.K.?
We all tune in to the news to stay apprised of world affairs, but often we come away feeling heavy-hearted. Which is just one reason why it's so delightful that today's edition includes the news that Prince George is one of the best-dressed people of 2018! The honor, technically only applicable in the United Kingdom, came from the British magazine, Tatler, which included the 5-year-old on this year's coveted Best Dressed List.
The young royal is hard to miss during public outings with his absolutely classic wardrobe. That's thanks to his parents who, according to The Sun, want to ensure that their children appear "timeless" in the photo record of their lives. The Tatler called it "Christopher Robin chic," which is a perfect description of the uniform-style shorts and matching shirt ensembles, often with a sweater, that the young prince sports. The knee socks and Mary Janes are a look that only a prince could get away with and may likely be a point of conversation between him and his mom at some future date...
The best-dressed honor may be more applicable than it first appears. The Telegraph reported on the trend of people rushing out to buy what the prince and princess are wearing, and the impact that it has on the economy. A brand-valuation firm estimated that Prince George's wardrobe would add more than £2.3 billion to the British economy over his lifetime, according to The Telegraph, while Princess Charlotte topped her brother with £3.2 billion pounds in impact.
It's easy to understand why. Who could avoid smiling at this image of Prince George in a tank top sweater with toy soldiers that sold out even before this Christmas photo was publicly released in 2014, according to the Daily Mail.
Or, according to Fashionista, this adorable outfit that stole the show at his sister's christening in 2015...
... Or, as HuffPost reported, walking with his father in a classic uniform look on his first day of school in 2017...
... Or matching his mom and sister in hues of pink and red during a tour of Poland and Germany, as Vanity Fair noted.
And perhaps his most adult look to date, the one time he wore long pants and rocked a uniform coat for the wedding of Prince Harry and Meghan Markle. According to Marie Claire, it is a tradition for royal boys to wear only shorts until the age of 8. This aberration was likely so Prince George would match the other page boys.
Ironically, the Daily Mail posited that by sticking to a basic, classic style Kate Middleton may be trying to avoid turning her kids into the kind of fashion trendsetter she's become, noting that experts claim she's trying to avoid "an inappropriate frenzy around their outfits."
Meanwhile, W magazine noted that Prince George's style is a far cry from the striped outfits Princess Diana liked to dress Princes William and Harry in. In an HBO documentary about their mother, Prince Harry commented that he believed his mother got "satisfaction in dressing William and myself in the most bizarre outfits. Also, shiny shoes."
Tatler's best-dressed list was chock full of royals this year. Meghan Markle's fashion topped the list, of course, while the Duchess of Cornwall, Camilla Parker-Bowles, was close behind. No surprise that Kate Middleton showed up, just ahead of Prince George. The Queen was included, which is delightful since she always looks both regal and cheery in her bright monochrome attire. Other members of the nobility that showed up in the top 30 included the Duke of Westminster, Hugh Grosvenor, the Countess of Snowden, Serena Armstrong-Jones, Lady Amelia Windsor, Lady Jean Campbell, The Countess of Burlington, Laura Cavendish, and the Countess of Mornington.
So one big question remains: where is Princess Charlotte? Similar to her brother, the princess is always attired in a traditional style of a dress, tights or socks, and a sweater buttoned only at the top. Hair pulled to the side in a neat barrette usually completes the look. She's adorable, and seems comfortable with herself as she waves at the crowds. I think it's a tie between the siblings, but maybe next year, right?