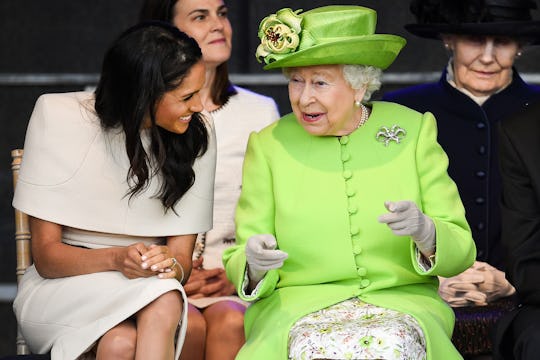 Jeff J Mitchell/Getty Images Entertainment/Getty Images
Here's How Queen Elizabeth Stays True To Her Taurus Status
Queen Elizabeth is one of those incredibly public figures that's also intensely private. As a living icon, she's instantly recognizable and easily caricatured... but what do you really know about her? (Besides the fact that she loves Corgis and hats?) Actually, there is one major thing to know about the Queen that's essential if you want to get an idea of what she's really like: Queen Elizabeth II's zodiac sign: Taurus. So if you're wondering what she'd do in a given situation, you need look no further than the stars.
The Queen isn't the only Taurus in the royal family: Great-grandchildren Charlotte and Louis were likewise born under the sign of the bull (Louis even shares the Queen's Leo moon). And as the longest-reigning monarch in British history, Elizabeth surpassed the reign of her great-great grandmother Victoria and has been distinguishing herself as a remarkable royal for her entire life. She's the only female member of the Royal Family to have entered the armed forces (she drove military trucks in World War II!); years later, in 1998, she even made a point of driving the King of Saudi Arabia around in her Land Rover when he visited Scotland because women aren't allowed to drive in Saudi Arabia. (Sick burn!) She paid for her wedding dress with clothing rations (also during wartime). She starred in a video for the Olympics with Daniel Craig as James Bond. She lets her grandkids call her Gan-Gan. She's an original, for sure. Or in other words, a Taurus!
Here are just some of the ways she sticks to her astrological roots.