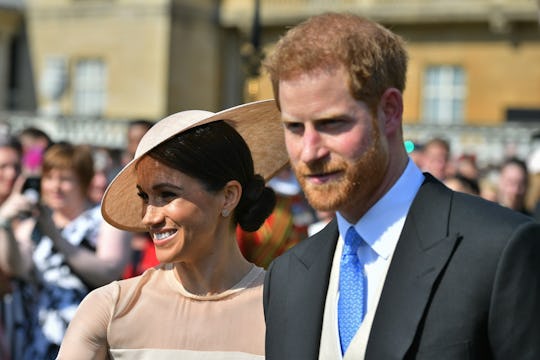 WPA Pool/Getty Images Entertainment/Getty Images
The Duke & Duchess Of Sussex Are Reportedly Home From Their Honeymoon
As the royal wedding came to an end, all eyes were focused on where Meghan Markle and Prince Harry would venture off to for their royal honeymoon. Was it somewhere in Africa? A Caribbean island? Or Canada? Well, we still don't know, but it sounds like Prince Harry and Markle are reportedly back from their honeymoon, which the world didn't even know that they were for sure on. Nevertheless, now that the newlyweds are back in the United Kingdom, it means that royals spectators can expect to see plenty more of the happy couple.
Of course, the couple has already made their first official royal appearance as husband and wife at Prince Harry's father's, Prince Charles' 70th birthday celebration on May 22, just three days after their May 19 nuptials. But shortly after that, it's suspected that the newly appointed Duke and Duchess of Sussex took off for their honeymoon, although it's unclear where they went. Although the world would love to know, it's more than understandable that they'd probably want keep those details private. Both Prince Harry and Markle have both been in the spotlight for so many months following their engagement, so it's nice they were hopefully able to enjoy some privacy following their wedding.
But now, the honeymoon is reportedly over and according to reports, as ELLE noted, Prince Harry is already back on that royal grind.
Indeed, according to a couple of royal correspondents on Twitter, Prince Harry attended the OnSide Youth Zone's Summer Gala Dinner Thursday night in London, although Markle wasn't seen alongside him. Royal reporter Omid Scobie explained on Twitter, the new Duke and Duchess of Sussex are officially back home in London from their honeymoon and Prince Harry attended the OnSide Youth Zone Summer Gala Dinner, which was took place Kensington Palace on Thursday night. It's unclear where Markle was for the night.
Even though Markle's whereabouts on Thursday are unknown right now, the new Duchess of Sussex will be in attendance at the Trooping of the Colour parade in honor of Queen Elizabeth II's official birthday on June 9, according to People. As a member of the royal family, it would be quite odd if Markle wasn't at the event on Saturday, especially since she's already scheduled to go on a solo outing with the queen next week as well.
And expect to see some great photos from the Trooping of the Colour parade on Saturday. According the official royal website, the parade will reportedly include over 1,400 soldiers, 400 musicians, and 200 horses. And who knows, maybe Markle will bless us all with another adorable moment like she did when she couldn't stop giggling at Prince Harry battling a bumble bee last month.
Aside from what should be memorable day — hopefully filled with a few adorable newlywed moments between the Prince Harry and Markle — it'll be interesting to see how the queen and her new granddaughter-in-law interact on her special day. After all, it's been reported that Queen Elizabeth feels a certain affinity towards the new duchess and wants to make sure that she feels welcome in the royal family, as People reported, citing Ingrid Seward, author of My Husband & I, a biography focused on the queen and her husband Prince Philip.
Who knows, maybe the newlyweds will even dish about their latest travels (perhaps finally reveal anything about their fabulous honeymoon?) or just what they've been up to for the past few weeks at this weekend's event. What's clear, though, is that even in those few shots of Prince Harry reportedly post-honeymoon, he seems happy as can be and the world can't wait for the couple's future royal appearances.