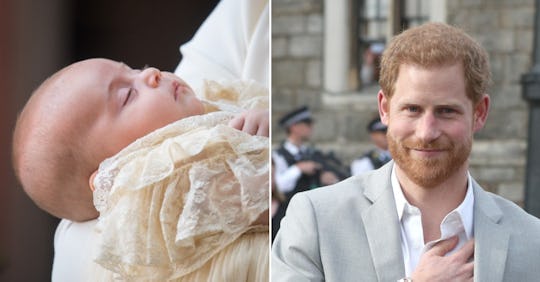 WPA Pool/Getty Images Entertainment/Getty Images/ WPA Pool/Getty Images Entertainment/Getty Images
Prince Harry's Sweet Christening Gift For Prince Louis Will Definitely Make Your Wallet Hurt
As book-savvy moms and dads can attest, reading out loud to your little one not only creates an incredible parent-infant bond, but it also instills a lifetime of language smarts. So imagine the drooling envy for this literary geek when I heard about Prince Harry's christening gift for Prince Louis. As The Sun reported on Monday, Prince Harry has reportedly gifted his newest nephew with a rare first edition of the A.A. Milne's classic, Winnie the Pooh. It's so incredibly heartfelt, but it sounds like your wallet would really take a beating if you were to emulate such a gesture.
A 1926 original version of the book — which details the adventures of a honey-loving bear and his friends in the now-immortal 100 Acre Wood (three kids later, of course I remember) — will look beautiful, sure, but it will really, really cost ya. Prince Harry reportedly purchased his copy for approximately £8,000, according to The Sun. (That's $10,573!). And while a rare book doesn't come cheap, it sounds like it was an important, heartwarming gesture that the 33-year-old prince decided to make for his newest nephew and his older siblings.
"One of Harry's happiest childhood memories was being read a bedtime story by his mother," The Sun quoted a source claiming to be a friend of the royal as saying. "[Princess Diana] loved all the old classics and Harry had the brilliant idea of starting a little library of first editions for Louis, Charlotte and George to enjoy as they get older."
Although it sounds like Prince Harry has ambitious plans for a full-on Royal Library for the youngest Windsors — a move that will certainly outdo even Oprah's gift of a book collection for Mindy Kaling's baby — this first purchase was reportedly found by Prince Harry through antique bookseller Peter Harrington, in the posh Kensington neighborhood of London, according to The Cut. First editions are valuable not just for their historic and sentimental value, but also for the fact that a publisher typically only orders so many tomes before knowing if a book will hit with the public. There were only 30,000 versions of the first Pooh in print, according to Metro, so with limited supply comes demand in the shape of a high price.
As for the details of Prince Louis' christening day on Monday, the honors were overseen by the Archbishop of Canterbury Justin Welby; the now-familiar church official who recently married Meghan Markle and Prince Harry, and also baptized Prince George and Princess Charlotte at their own ceremonies, as TIME reported. Prince Louis was decked out in the same off white christening gown his siblings donned on their special days, Kensington Palace confirmed on July 9.
Prince William and Kate Middleton, as always, were the picture of calm, cool, and collected as they escorted the fam to the big day, where little Prince Louis was given no less than six godparents, according to Glamour. (Hey, Prince George has seven godparents, as noted by the BBC; as usual an older brother beats his little bro at some games).
As Prince William and Middleton have tried to do their whole marriage, it seems that they selected Prince Louis' godparents based on blending the traditions of both their families. The Duchess of Cambridge's cousin Lucy Middleton was chosen as a godmother, as well as one of Prince William's oldest friends, Guy Pelly, whose mother was Princess Diana's friend, according to Vogue. Royal kids have many godparents due to needing the advice and oversight of more than one person as they assume a place on the world stage. The Duke and Duchess of Cambridge like to break royal traditions when it's important to them, such as appointing godparents who are meaningful rather than just going with family members, as ELLE explained.
Meanwhile, as Prince Harry and Markle settle into royal married life (with some people convinced the new duchess is doing so well that she already has a little accent), this classy and timeless gift for little Prince Louis on his christening day proves yet again that they're both already showing signs of being one awesome aunt and uncle duo.