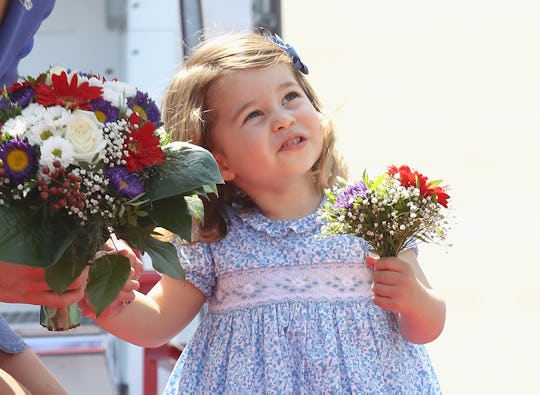 Chris Jackson/Getty Images Entertainment/Getty Images
Prince William Shared The *Sweetest* Detail About Princess Charlotte
Here is what I love about Prince William: everything. I'm also a fan of Prince Harry, his slightly flashier younger brother, but there's just something about Prince William. He seems like such a solid, regular, good man... but perhaps even more than that, he's the quintessential proud dad, heir to the throne. Say what you will about him (actually, don't you dare), but the man is clearly gaga over his two kids, Prince George and Princess Charlotte. During a recent meeting with the Maltese Prime Minister, Prince William shared the sweetest detail about Princess Charlotte, and it's just another example of how this dad loves gushing about his kids.
Prince William was at a Commonwealth Day reception on Tuesday with his father Prince Charles and his stepmother the Duchess of Cornwall. He was greeting Prime Minister Muscat's wife, Michelle, and their 10-year-old twin daughters Etoile Ella and Soleil Sophie, according to The Mirror. When Michelle Muscat told Prince William that her daughters had recently been in a school play, the proud father was quick to turn the conversation around to his own adorable daughter.
"My daughter Charlotte loves dancing," he said, according to The Mirror. Little Charlotte, who will turn 3 years old in May, is currently attending nursery school at Willcocks near Kensington Palace and is also the style icon of anyone who has ever wanted to perfect preppy chic, child or otherwise.
I know that this seems like an innocuous little detail about palace life, but this is what's so great about Prince William. He was born into a world of immense privilege and responsibility. He is probably one of the most famous royals on the planet... and yet he's just getting a kick out of seeing his little girl dance, you know? Just like every other dad. I love it.
Both Prince William and his wife, Kate Middleton (who is expecting the couple's third child later this year) are big fans of gushing about their kids. Prince William, who lost his own mother Diana in a tragic car accident when he was just 15 years old, has been very vocal about the joy he feels in having a family.
After Princess Charlotte joined the family in 2015, he enthused about his daughter to the BBC:
It has been fantastic and she has been a little joy of heaven. But at the same time it is more responsibility, looking after two little ones, especially when George is around. He's a little monkey. It is fantastic having a lovely little family, and I am so thrilled.
The proud dad also admitted that his little girl has some impressive athletic abilities while visiting a soccer stadium when she was just 11 months old, according to Hello! Magazine:
She's a very good footballer. You hold her hand and she kicks it.
As for 4-year-old Prince George... what can one say about such a sweet little boy? Other than the fact that he reportedly loves stickers, dinosaurs, his Nintendo DS, pancakes, thunderstorms, and playing the sheep at his nursery school's nativity play, as Prince William told The Telegraph:
I went to my boy's nativity play, it was really funny. He played a sheep.
As the prince gets geared up to welcome his third child in April, he admits he's anxious about how much work it's going to be... I mean, he's going to have to go into gushing overtime with three kids. In February he spoke to guests at a charity event and said, according to ABC News:
Two is fine — I don't know how I'm going to cope with three. I'm going to be permanently tired.
Sure, he'll probably be tired. But I guarantee you this particular heir to the throne of England will relish every detail of being a father of three.
Check out Romper's new video series, Bearing The Motherload, where disagreeing parents from different sides of an issue sit down with a mediator and talk about how to support (and not judge) each other's parenting perspectives. New episodes air Mondays on Facebook.