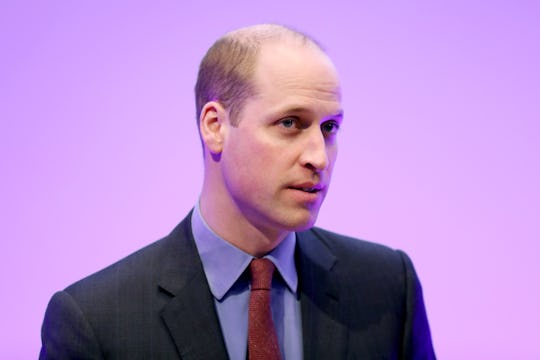 Chris Jackson/Getty Images Entertainment/Getty Images
Prince William's Feminist Quotes Show He's A Great Ally For Women Everywhere
It's going to be a busy spring season for Prince William, since he's not only welcoming his third child with Kate Middleton, but will be attending his brother's wedding to Meghan Markle next month. That's a lot going on, but I can't say I hate having both Prince William and Prince Harry in the spotlight these days. The more they speak out in public, the more I realize they've grown up to be, by all accounts, really great guys. And Prince William's feminist quotes definitely prove it.
Prince William, 35 years old, often speaks about his late mother, Princess Diana, and how proud he is of her humanitarian work, all while being a style icon and role model for women everywhere. Likewise, his wife always has many causes near and dear to her heart, like supporting midwives and nurses and helping her husband and brother-in-law with their mental health awareness foundation.
Unlike some famous people or heads of state, the causes that Prince William, his brother, and his wife work on don't seem to be just for the photo op. They really appear to care about the people they want to help, whether it's wounded soldiers or midwives, all of which are also issues that lend themselves to empowering women. With both a son and daughter, and another child on the way, Prince William better be a feminist. Here are some quotes that prove it.
On Relating To Parenting Shame
After Prince William dropped Prince George off for his first day of school, he reportedly said, according to the Independent:
It went well. There was one other parent who had more of an issue with their children — so I was quite pleased I wasn't the one.
It was refreshing to see Prince William pick up the parenting duties in public while Middleton was home, sick with hyperemesis gravidarum at the onset of her third pregnancy. And understanding just how brutal parents can be to each other sometimes, even if inadvertent, is key to understanding the stress women have about being "enough."
On Princess Charlotte Making "Trouble"
According to Entertainment Tonight, Prince William is definitely onto his daughter. He said:
I think she's going to be trouble when she's older. All fathers say that...George rules the roost, and Charlotte isn't far behind,
So at least he'll be ready when Princess Charlotte starts taking up her own causes as she gets older.
On The Power Of His Mother
Prince William has been very open about his grief after losing his mom, but one of my favorite quotes is about what a "nightmare" Princess Diana would be if she were alive today. He seems to understand that each woman has her own personality and needs, instead of just one group that can be generalized, as some sexist people often do. He jokingly said, according to PopSugar, about her grandma-duties:
She'd be a nightmare grandmother, absolute nightmare. She'd love the children to bits, but she'd be an absolute nightmare. She'd come and go and she'd come in probably at bath time, cause an amazing amount of scene, bubbles everywhere, bathwater all over the place and — and then leave.
On Being Frank
After wearing a canary yellow dress in 2014, according to Us Weekly, Kate Middleton said that her husband told her she looked like a "banana." Adoring her no matter what she wears, and feeling comfortable with her running with her own creativity and fashion sense, is a good sign that Prince William respects his wife.
On Being Wrong
Back in 2004, he said, according to Us Weekly, "I'm always open for people saying I'm wrong because most of the time I am." Ugh, if only more men were that open to criticism.
On Leaning On His Wife
Prince William, said, according to PopSugar, that he and Middleton really rely on each other, which is a great sign that their relationship is equal. He said:
There's wonderful highs and wonderful lows. It's been quite a change for me personally. I'm very lucky in the support I have from Catherine, she's an amazing mother and a fantastic wife. But I've struggled at times. The alteration from being a single, independent man to going into marriage and then having children is life-changing.
On Positive Body Image
According to Vanity Fair, Prince William told a bunch of young girls at the Burlington Danes Academy in London that he worried about their self-esteem and mental health online. He said:
The touched-up pictures are not real. Don't try to re-create them or think that's what you've got to aim for. There's a lot of fakeness online so don't worry about that.
Well, said, sir.
On Skipping Old Fashioned Traditions
During an ABC News interview after their engagement, Prince William said he chose to not do the traditional thing and ask for Middleton's hand from her father. She's not property, right? He joked:
Well, I was torn between asking Kate's dad first and then the realization that he might actually say 'no' dawned upon me. So I thought if I ask Kate first then he can't really say no. So I did it that way round. And I managed to speak to Mike sort of soon after it happened really and then it sort of happened from there.
He added, according to ABC News, "You hear a lot of horror stories about proposing and things going horribly wrong - it went really, really well and I was really pleased she said yes," which means he knew she had a choice in the matter, either way.
On Wanting A Better Future
Far too many people pretend like feminism isn't something that women need and ignore the problems in the world. Not Prince William. He said, according to PopSugar:
Having a daughter is a very different dynamic. So I'm learning. ...I worry about the future more. When you have something or someone in your life to give the future to, I think it focuses the mind more about what you're giving them.
Although he has to be more reserved sometimes, thanks to royal protocol, Prince William does speak his mind. And it sounds like he's a great ally for women everywhere.
Check out Romper's new video series, Bearing The Motherload, where disagreeing parents from different sides of an issue sit down with a mediator and talk about how to support (and not judge) each other's parenting perspectives. New episodes air Mondays on Facebook.