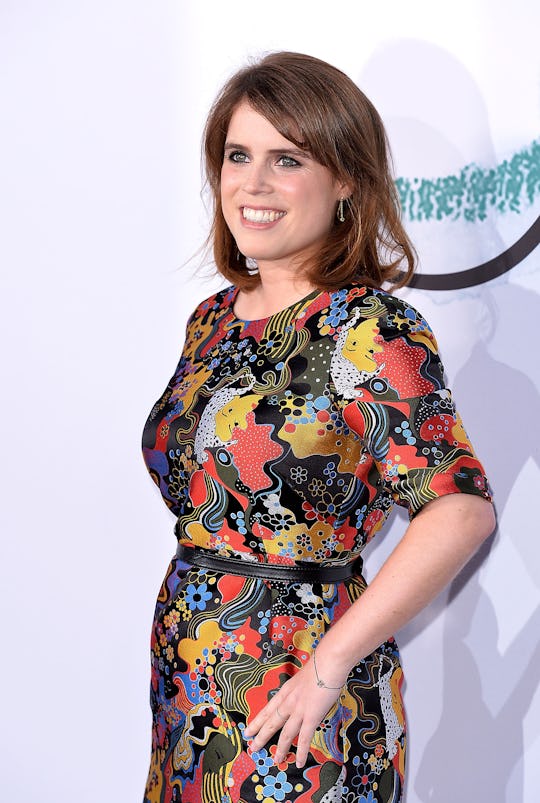 Jeff Spicer/Getty Images Entertainment/Getty Images
Princess Eugenie's Instagram Provides A Unique Look Into The Life Of A Royal
Most major royal family members' social media existences are limited to joint accounts, which are typically managed by staffers. Considering that, it's pretty cool that Princess Eugenie of York runs her very own Instagram account. The ninth in line to the throne has only been on Instagram for a few months, but she has already utilized her new platform in a variety of awesome ways. Princess Eugenie has used Insta to spread awareness for causes she's passionate about, to share adorable throwback photos of her and her family, to announce updates about her upcoming wedding, and more, allowing fans to get to know her in a way they don't know other royals.
Princess Eugenie joined Instagram back in March, on International Women's Day. Her first post was a video of herself making a speech about her battle with scoliosis. "I can think of no better day than today, International Women's Day, to launch my personal Instagram," she captioned the video. "I hope to use this platform to share the causes, passions and people close to my heart." And Princess Eugenie has definitely kept that promise. In the speech, she explained that she feels lucky to get to support, work with, and inspire women who have scoliosis, too.
She further opened up about her experience with scoliosis in July, on International Scoliosis Awareness Day. "Today is International Scoliosis Awareness Day and I'm very proud to share my X Rays for the very first time," Princess Eugenie captioned a photo of her X-ray on Instagram. "I also want to honour the incredible staff at The Royal National Orthopaedic Hospital who work tirelessly to save lives and make people better. They made me better and I am delighted to be their patron of the Redevelopment Appeal."
In addition to working to spread scoliosis awareness, Princess Eugenie is also passionate about the Teenage Cancer Trust, a United Kingdom-based charity that supports teens and young adults with cancer, according to its website. "So happy to support @teenage_cancer on their incredible and important work helping teenagers fight cancer," Princess Eugenie wrote on Instagram in March, alongside photos of her working with the organization.
Like her uncle Prince Charles of Wales, Princess Eugenie is also passionate about the environment. In June, she teamed up with Project 0, a global organization working to help recover and conserve the oceans. "I'm so excited to have recently become an Ambassador of Project 0 whose aim is to restore and protect the ocean," she captioned a photo of herself posing in front of a giant whale made out of single-use plastic. She also opened up about the harmful environmental effects of plastic in a recent interview with Vogue. "It's been eye-opening," she told the magazine, of working to rid her life of single-use plastic. "My whole house is anti-plastic now – and Jack and I want our wedding to be like that as well."
The princess is set to marry her longtime boyfriend (now her fiancé) Jack Brooksbank on Oct. 12 of this year, at St. George's Chapel, Windsor Castle, according to a tweet by her father, Prince Andrew, Duke of York. And as any young woman with an Instagram account and a good-looking fiancé is wont to do, Princess Eugenie likes to share the occasional photo with her bae.
She also shares plenty of current photos with her sister, Princess Beatrice of York, and their utterly adorable dogs.
And speaking of adorable creatures, Princess Eugenie's Insta is also filled with throwback photos from her childhood. She often uses TBTs to show off her sense of humor — for example, she captioned below photo, "Good Morning Monday!"
And this super cute shot of her as a flower girl is captioned, "90s throwback...wedding planning starts!!"
The princess is not a fan of Mondays. She captioned a hilarious throwback shot of herself: "Monday mornings..always graceful stifling a yawn on the steps of St Paul's in a full pink suit!!!"
And for good measure, here are a few other awesome vintage photos.
But my personal favorite post of Princess Eugenie's is a clip from the show Friends. In the short video, Ross is scolding his pet Monkey, Marcel, for turning on music. The clip Eugenie shared is edited to feature The Lightning Seeds' song "Three Lions," which dropped in 1996 to commemorate the UEFA European Football Championship, according to Newsweek. The princess must be a big fan of soccer — and Friends! The latter is not surprising, considering her mom, Sarah Ferguson, Duchess of York, made a cameo on the sitcom, according to Comedy Central.
Here's hoping Princess Eugenie uses Instagram to share a few wedding updates in the coming weeks!