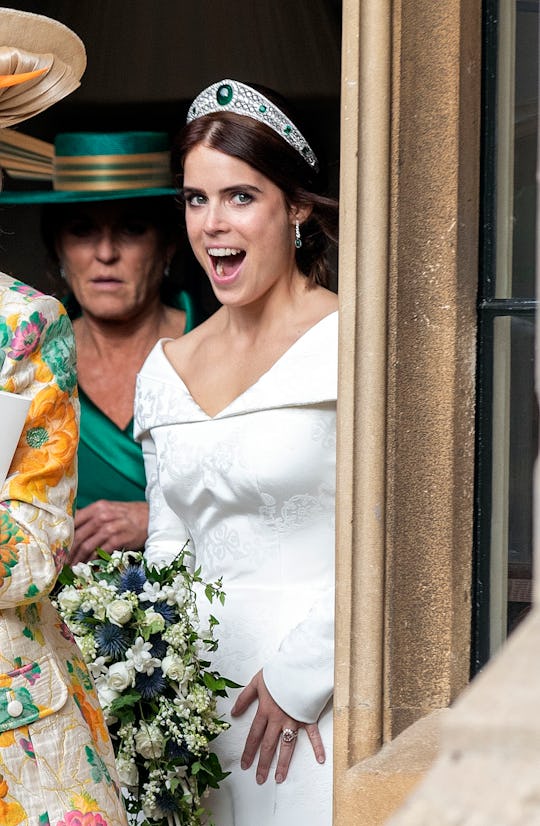 WPA Pool/Getty Images Entertainment/Getty Images
Princess Eugenie's Royal Wedding Reception Had Pizza Trucks & Tequila Shots
I was one of those people who woke up before dawn on Friday to watch Princess Eugenie marry her longtime love Jack Brooksbank at St. George's Chapel in Windsor Castle. It was early, guys, so early. But I was excited to see Princess Eugenie's dress, the guests, and the rest of the royal family (most especially those professional little wedding party members, Prince George and Princess Charlotte). I won't lie to you; even though everyone looked great, it was a little dull. But apparently they were saving the fun for after: Princess Eugenie's wedding reception sounds like one hell of a good time, and it has restored my faith in the institution of marriage.
Royal watchers should have had some inclination that a good party might be happening after seeing the guests coming through, I suppose; celebrities like Demi Moore, Ricky Martin, Liv Tyler, and Robbie Williams were on hand at the wedding, as The Independent reported. And also let's not forget that, while Princess Eugenie is the granddaughter of Queen Elizabeth, she is also the youngest daughter of Prince Andrew and the legendary Sarah Ferguson, noted The Cheat Sheet. Who honestly seems like she would be more fun at a party than all of the members of the royal family combined.
I mean, just watch her arriving at the royal wedding on Friday. She didn't quietly walk in with a little smile. She pretty much jumped out of the car and started talking to everyone, laughing and smiling.
So you know she's a barrel of laughs, a trait she seems to have passed on to her daughter.
Princess Eugenie and Jack Brooksbank and 800 of their guests followed their wedding with a luncheon hosted by Queen Elizabeth, according to People, which I'm sure was simply lovely. This was where the newly married couple shared their wedding cake with their guests, a red velvet and chocolate cake beautifully decorated in the colors of autumn.
After the luncheon it seems they decided it was time to party. The venue was Windsor Great Park Royal Lodge, the home of Prince Andrew and Sarah Ferguson (who have been divorced for 22 years and still live together because they're awesome).
So what did this version of the wedding reception look like, you ask? Instead of tiny sandwiches and tea, think food trucks and tequila. Which makes sense since Brooksbank once worked as a UK brand manager for George Clooney and Rande Gerber's tequila Casamigos, explained People. And let's not forget the couple arrived in a literal Bond car... an Aston Martin DB10, the very car used in Spectre.
The couple went with a fairgrounds-theme for their reception at Royal Lodge, complete with a gourmet pizza food truck, tents on the grounds, and a performance by British pop singer Robbie Williams, People reported. Williams must be a personal friend, since his daughter Theodora was one of the bridesmaids.
Other guests at the party reportedly included Prince William and Kate Middleton as well as Prince Harry and Meghan Markle, according to Harper's Bazaar. I'm trying to wrap my head around the idea of any of those people doing shots of tequila and downing food truck pizza. Prince Harry is the only one I can see doing it, honestly.
I know it's a gross invasion of privacy, but how great would it have been to be a fly on the wall at this party? The royals drinking tequila and eating pizza. Dancing. Actually having fun... probably because they didn't have all of us spying on them. Talk about a catch 22.