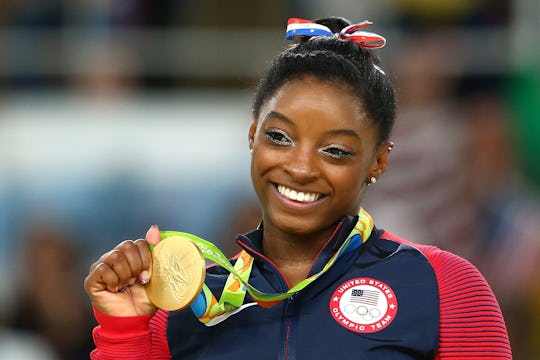 Alex Livesey/Getty Images Sport/Getty Images
Reactions To Simone Biles As Flag Bearer At Closing Ceremony Prove We Can't Wait For Tokyo
The Olympic Games in Rio proved to be an extremely fortuitous and somewhat dramatic trip for the United States. While the past few days have been inundated with news of Ryan Lochte's latest blunder, even the most unreasonable, drunken antics of a 32-year-old man can't distract from all that women, and especially women of color, accomplished at this year's Olympics. If anything, the reactions to Simone Biles as flag bearer at the closing ceremonies proved that the only thing more powerful than gold is #BlackGirlMagic.
Simone Biles, who proved herself to be the best gymnast in the world, made Olympic history during the 2016 Rio Games, winning gold in women's vault, women's team all-around, women's individual all-around, and women's floor exercise; becoming the first female olympic gymnast to win four gold medals during a single Olympic Games. Biles also took home a bronze medal in women's beam, because, well, why not? Although she was favored to win gold in all five events, Biles "fell" during her balance beam routine (to be fair, she didn't fall completely off the beam but one foot did slip off, which is a "fall" as far as the judges and points are concerned). Simone wasn't too disappointed about her slip, and who can blame her? At that point, she was already an Olympic champion.
As a 19 year old, there is speculation that viewers should expect Biles back at the next Olympics in Tokyo, Japan and, judging from the reactions to her carrying the flag of the country she made so proud, we're all hoping to watch the Greatest Gymnast Ever compete again.
Turns out, Simone Biles carrying the American flag was a closing ceremony "moment," as countless athletes stopped to take selfies with the Olympic champion gymnast. Of course, Simone was more than willing to accommodate, which couldn't have been easy. I mean, that flag is heavy.
This is hardly the last we will see, or hear, of Simone Biles. On a completely unrelated note, is it 2020 yet?