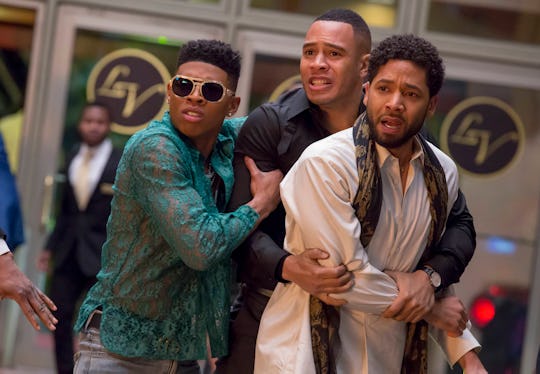 Chuck Hodes/FOX
Everything You Need To Remember About 'Empire' Season 3
After a long summer with no Empire, the hit show returns on Wednesday night. At its core, Empire is a soap opera — so the situation at the beginning of one episode could completely change by the end. Season 3 provided many twists and turns for the Lyon family, including new people entering the fold and others tragically exiting (dying at the hands of Lucious' mom, for instance). In the season premiere, Andre's wife, Rhonda, died — and she didn't even get a funeral. It seems like forever ago, so here's a recap of Empire Season 3 to jog viewers' memories before we dive into Season 4.
Anika murdering Rhonda seems like it happened decades ago (to me at least), but that was just one of the many shocking events that occurred this season. While most characters moved on, Andre obviously had a harder time. This caused some of his mental health issues to arise, but by the end of the season he appeared to be... not cured, but I suppose preoccupied with everything else that went down that season. He was also canoodling with multiple women by the season finale, so I don't feel too bad for him. And anyway, given Lucious' coma in the finale, Andre was certainly not the most sympathetic character anymore. What else went down in Season 3?
Tory Ash Stirred Up Trouble
When Jamal left rehab, he took his friend Tory Ash with him. Tory is an Amy Winehouse-like singer, with the bluesy voice and troubled past to back up her image. She leaves rehab and starts recording to Empire Records, like the song "Crazy Crazy 4 U." It's not known whether Tory will return in Season 4, but I hope amidst the drama viewers will get to hear another Winehouse-esque tune from her.
Giuliana Created A Riff Between Cookie & Lucious
Giuliana is a Vegas nightclub owner who, within the first five minutes of her being on screen, killed her husband. So, from there, viewers knew she was not to be messed with. As it turns out, Giuliana had a past with Lucious; during one of his umpteenth fights with Cookie, Giuliana rekindled their love. Seeing as she's the type to just murder her husband in front of a bunch of strangers, though, she's not one to be trusted. In the season finale, Lucious broke it off with Giuliana — but I have a feeling she's the type who doesn't go away easily.
Diana DuBois Kidnapped Baby Bella
Like Giuliana, Diana DuBois is also not one to mess with. Once Cookie refused her son Angelo's marriage proposal (and also ruined his political prospects), Diana sought out revenge. She sent Child Protective Services to retrieve Bella, Anika and Hakeem's baby, and planned on raising her herself. Thankfully, in the season finale, Hakeem got his daughter back — but not before torture and dealmaking tactics were utilized to make it happen.
Lucious' Mom Killed Tariq
Tariq was never Leah's favorite person... actually, it's quite possible that he was her least favorite person, besides his mother (Fatima) of course. Tariq is the child between Fatima and Lucious' father, so Leah always had it out for him. But she always contained herself, until this season when Lucious reached out to Tariq to help find Bella. Tariq not only agreed, but he found out what happened. Unfortunately, he couldn't tell anyone before Leah fatally stabbed him. She didn't want him to be part of the Lyon family in any way, and she got her wish.
Lucious Lost His Memory
Just when the audience thought that Lucious and Cookie finally worked it out, Empire snuck in the classic amnesia soap opera plot line. In one of the final scenes, Shine carries out his and Andre's plan to kill Lucious. He doesn't die, but he is left in a coma — and when he wakes up, he can't remember anything. Viewers are left wondering what will become of Lucious and Empire Records, as well as what's going to happen with his nurse (aka Demi Moore). Thankfully, the wait is almost over: Empire returns with Season 4 to answer all these questions (and undoubtedly ask new ones).
Watch Romper's new video series, Romper's Doula Diaries:
Check out the entire Romper's Doula Diaries series and other videos on Facebook and the Bustle app across Apple TV, Roku, and Amazon Fire TV.