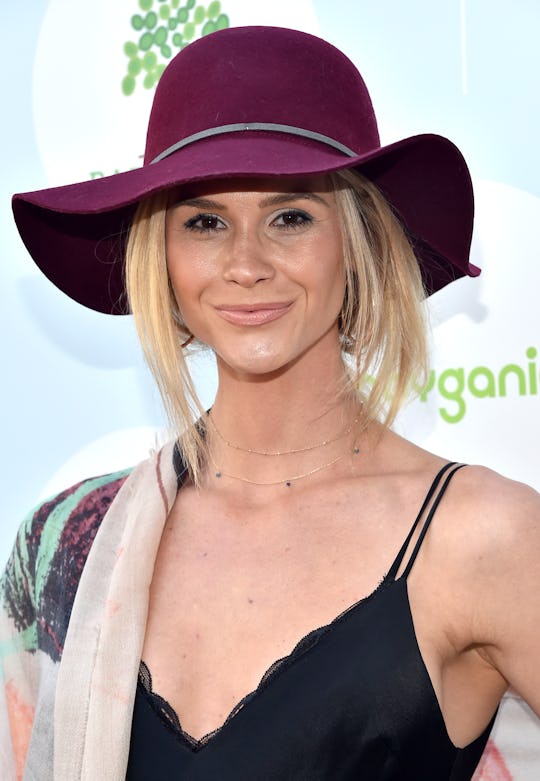 Alberto E. Rodriguez/Getty Images Entertainment/Getty Images
People Are Hating On Meghan Edmonds' Beyoncé-Inspired Maternity Shoot, & It's Ridiculous
As the old adage goes, imitation is considered the highest form of flattery. But sometimes, that imitation doesn't quite land the way with fans as you would hope. Case-in-point: Real Housewives of Orange County's Meghan King Edmonds is pregnant with twins, and her Beyoncé-inspired maternity shoot has received a lukewarm response online so far.
On Friday, King Edmonds shared to her Instagram account a series of photographs, as well as a behind-the-scenes video, of her recent maternity shoot where she is channeling Queen Bey and her iconic 2017 twin pregnancy reveal, according to People. The 33-year-old former RHOC star, who is expecting twins in June with husband Jim Edmonds, recreated Beyoncé's photograph nearly inch-for-inch, from the pink bra and blue panties to the colorful floral backdrop. The photo, organized and taken by photographer Heather Mohr, is not an exact replica, but it's a pretty good replication, to say the least.
Still, no matter how well-done the photo may be, King Edmonds' Beyoncé-inspired maternity shoot has received a mix of praise and criticism online. Some social media users loved the reality TV star's remix of Queen Bey's now-famous announcement, while others thought the mom-to-be's efforts were just a bit too much.
King Edmonds didn't only receive a lukewarm reception on Twitter, though. Instagram users also shared their thoughts directly to her post, which has received over 31,000 likes as of Friday afternoon. On the positive side, one user wrote, "I love it, you look stunning. Congratulations @meghankedmonds," while another commented, "So perfect! You look amazing!!!" Someone else replied to the Instagram post, "I ADORE YOUUU."
Other comments weren't as loving. One person wrote that they found the maternity shoot "so offensive," while another called the photograph "awful." Many also commented that Beyoncé "did it better." And two Instagram users posed variations of the same question: Why would King Edmonds want to be Queen Bey?
But some commenters also came to King Edmonds' defense, attempting to shut down the negativity that had taken over her Instagram post on Friday. For example, one user wrote,
Negative people will find a way to pick apart anything, even a pregnant woman's photo shoot it appears she did all in good fun. #spreadpositivity You're beautiful @meghankedmonds
Another noted that King Edmonds gave Queen Bey credit for the idea and inspiration. In fact, King Edmonds captioned the post, according to E! News,
If I can't be Queen Bey I'll settle for King Edmonds. #twinscomingsoon#imitationisflattery#thisIsNotMyMaternityShoot
Responding to the criticism, King Edmonds told Romper via email:
Any criticism is only because the viewer has misunderstood my purpose. Beyoncé is such an icon and I have something in common with her: twins! I have the perfect excuse to recreate her over-the-top spectacular announcement!
She added:
No, it's not unique, it's not supposed to be! It's a tongue-in-cheek humor and I hope everyone can appreciate it, including the Queen Bey herself.
What Beyoncé thinks of King Edmonds' maternity shoot is unknown. The powerhouse singer, who gave birth to her twins last June, has yet to comment on the photograph — at least not publicly. It should be noted, though, that Queen Bey's original twin pregnancy announcement was the most-liked Instagram photo of last year, according to Glamour. The mom of three's gorgeous pregnancy reveal received a whopping 11.8 million likes as of November 2017. (And here I am, excited if I break 100 likes.)
King Edmonds first announced her pregnancy back in November, before the debut of a new RHOC installment. Then in January, she revealed on her blog that she was leaving the franchise amid her pregnancy with twins, conceiving through IVF. (King Edmonds is already mom to 1-year-old Aspen, who she gave birth back in November 2016.)
The Bey-inspired maternity shoot is just one of many pregnancy photos King Edmonds has shared to her Instagram since announcing her pregnancy. Even if, in some respects, the photo was a miss, fans can't deny how excited the former RHOC star is to be a mom again.
Check out Romper's new video series, Bearing The Motherload, where disagreeing parents from different sides of an issue sit down with a mediator and talk about how to support (and not judge) each other's parenting perspectives. New episodes air Mondays on Facebook.