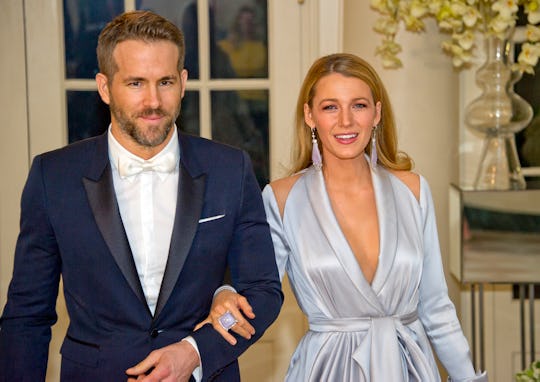 Pool/Getty Images News/Getty Images
Ryan Reynolds Reveals Blake Lively Kept Him "Sane"
Despite the widespread general disdain for 2016, it was a fantastic year for actor Ryan Reynolds, who celebrated the massive success of the comic book film Deadpool, in which he played the title character, as well as welcomed a second daughter into his family. Deadpool is now up for two Golden Globes, a fitting answer to the critical and audience acclaim it enjoyed, not to mention the massive box office earnings. Still, in a new interview with Variety, Ryan Reynolds talked about the anxiety he felt in anticipation of the movie's debut, and how his wife, Blake Lively, kept him "sane" through it all.
Reynolds reportedly lobbied studios for years to greenlight Deadpool, which was a risky pick because of its extreme violence, sexual content, and resulting "R" rating, but it ultimately grossed more than $783 worldwide, more than both X-Men: Apocalypse and Suicide Squad, Variety reported. But before the film exploded as a phenomenon upon its February release, Reynolds didn't know that would be the case. What he felt, knowing that early screening audiences at Comic-Con had gone "crazy for it" but unsure how general audiences would react, was pressure.
"The expectations were eating me alive," he told Variety's Ramin Setoodeh. "Blake helped me through that. I'm lucky to have her around just to keep me sane."
Lively was, at the time, involved in filming her own thriller, The Shallows. But she was able to help her husband relax about the much-anticipated reaction to the story of an ex-military officer whose botched cancer treatment morphs him into a pansexual superhero. She probably did this, at least in part, by reassuring him that the hard works he invested in the film would pay off. And, if that's what she said, she was right: Reynolds won the Entertainer of the Year honor at the Critics' Choice Awards in December, shortly before attending a ceremony to receive his own star on the Hollywood Walk of Fame. Now, a Deadpool sequel is in the works.
At the event — to which he and Lively brought their 2-year-old daughter, James, and introduced the world to their newborn, Ines — Reynolds also earnestly credited Lively for his success, both personal and professional. "You make everything better, absolutely everything in my life better," he said to her during the ceremony, as People magazine reported. "You've made me the father of my dreams when I thought I only had fun uncle potential."
Deadpool has undoubtedly been a major boon for Reynolds' A-lister career, and his apparently thriving family life reflects that success. The partnership and Ryan Reynolds and Blake Lively share certainly appears to be the foundation on which this happiness rests, and from which adorable babies and insanely popular movies emerge.