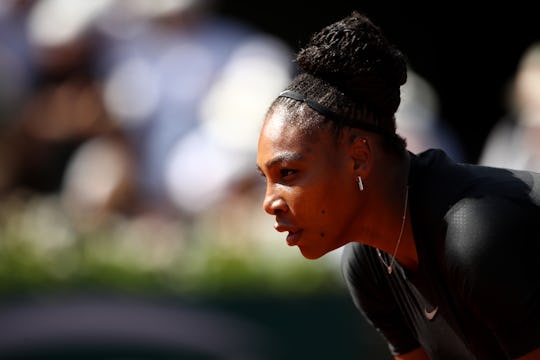 Cameron Spencer/Getty Images Sport/Getty Images
Serena Williams' Return To Tennis After Giving Birth To Baby Olympia Is As Fierce As It Gets
Going back to your job after maternity leave is a different experience for every parent — and for tennis icon and new mama Serena Williams, that experience was fierce. Serena Williams just returned to tennis after maternity leave, and her triumphant comeback is super inspiring.
On Tuesday, Williams played her first competitive tennis match since giving birth, according to E! News. She played at the Grand Slam competition in the first round of the French Open, where she beat Czech tennis player Kristyna Pliskova 7-6 (7-4), 6-4, as reported by the Washington Post. News of her win quickly began to spread — as did news of her incredible outfit. She wore a skintight, all-black, Nike, one-piece outfit that was pretty much a catsuit. Seriously, she could have worn cat ears for this match and I would have yelled "YASSS SERENA!" at my TV. I foresee a lot of Serena Williams catsuit Halloween costumes this fall.
And after the match, a commentator asked Williams what her catsuit represents. "All the moms out there that had a tough pregnancy and had to come back and try to be fierce in the middle of everything," Williams replied, as seen in a video tweeted by the Tennis Channel. "So that's what this represents, and it's exciting. I think the catsuit is — you can't beat a catsuit, right?"
Following the match, Williams shared a photo of herself on the court to Instagram, alongside an empowering caption. She wrote:
Catsuit anyone? For all the moms out there who had a tough recovery from pregnancy—here you go. If I can do it, so can you. Love you all!!
And Williams did indeed have a tough recovery from pregnancy. She and her husband Alexis Ohanian welcomed their first child on Sept. 1, 2017: a baby girl named Alexis Olympia Ohanian Jr. In January, the tennis champ opened up about complications she had after giving birth in a Vogue cover story.
After delivering her daughter via emergency C-section, according to Vogue, Williams felt short of breath. Because of her history of blood clots, she had a feeling it was a pulmonary embolism, which is when blood clots form and block arteries in the lungs. Doctors ran a CT scan, confirmed that she had a pulmonary embolism, and put on a heparin drip. However, shortly after, her C-section wound popped open, and doctors found a large hematoma in her abdomen, meaning she had to get additional surgeries. And after finally going home with her baby, Williams was pretty much bedridden for about six weeks. "Consider for a moment that your body is one of the greatest things on this planet, and you're trapped in it," she told Vogue of the experience.
Hearing about Williams' victory on the tennis court today makes it hard to believe that just nine months ago, she was bedridden, recovering from childbirth and multiple surgeries.
And even though this was Williams' first competitive match since her maternity leave, this was not Williams' first tennis match since then. In December, Williams returned to the sport by playing an exhibition match (which is essentially a pre-season warmup match) at the Mubadala World Tennis Championship in Abu Dhabi, reported the Associated Press. Even though she lost to Jelena Ostapenko, according to The New York Times, she called the match "wonderful," adding:
I don't think I am going to rate my performance ... I have plenty of comebacks, from injuries, from surgeries, but I've never had a comeback after actually giving birth to a human being. So, in my eyes, I feel it was a wonderful, wonderful match for me.
Considering Serena Williams is one of the greatest tennis players of all time, it's really no surprise that she killed it on the court today — and the fact that she did it after giving birth to a baby last year makes it even more inspiring.