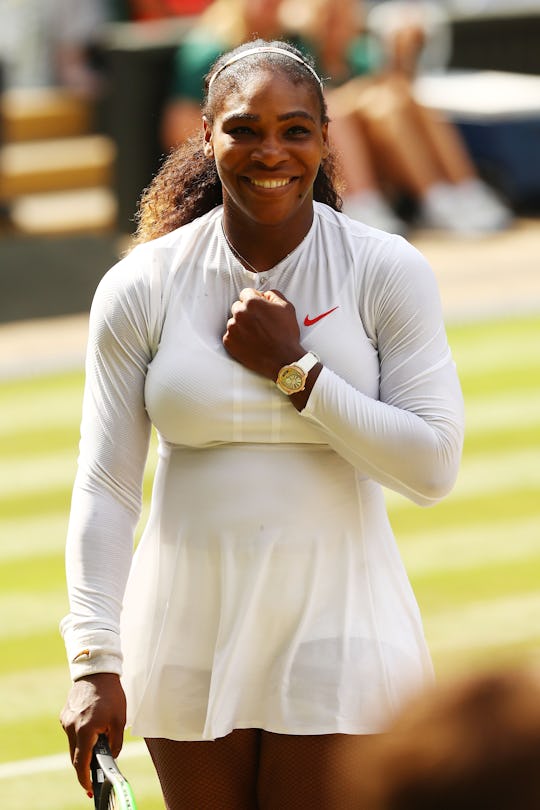 Matthew Stockman/Getty Images Sport/Getty Images
Why Serena Williams Won't Be Celebrating Her Daughter Olympia's First Birthday
Serena Williams is a world champion, but her journey as a new mom has made her one of the most relatable celeb parents out there, from her posts about missing her daughter's first steps to her inner conflict over whether breastfeeding would affect her training. But her traditions around a certain milestone are different than most in one way: Serena Williams won't celebrate daughter Olympia's first birthday due to her religious beliefs.
As Williams told People, little Olympia's big day, coming this weekend, won't be marked with a typical cupcake-and-candle, balloon-and-streamers celebration due to the fact that the athlete is a Jehovah's Witness. "Olympia doesn't celebrate birthdays," Williams told the magazine at a press conference surrounding the U.S. Open. "We're Jehovah's Witnesses, so we don't do that."
According to the BBC, Williams' faith, Jehovah's Witness, is a Christian-based movement founded in the United States in the 19th Century, with the aim of getting closer to the text of the actual Bible. Members do not celebrate Easter or Christmas because of a belief that these celebrations are based on Pagan traditions. As for natal celebrations, according to the BBC, the religion's followers take their cue from Jesus, who did not ask anyone to mark his birthday.
Though she won't be throwing Olympia a birthday bash, there's absolutely no doubt that the tennis champ has been absolutely in love with her daughter from day one, chronicling all of it for fans to see on social media. Her husband, Reddit cofounder Alexis Ohanian, is also prominently featured, and the pair have a fun relationship in which they've gotten to do everything from attending Prince Harry and Meghan Markle's wedding celebration to jetting to Italy just for an Italian dinner, as The Cut detailed.
In spite of her life at times resembling a fairy tale, Williams is also a very real person with her own challenges, including sharing on Instagram earlier this month that she was feeling like a "not a good mom":
Although I have been with her [Olympia] every day of her life, I'm not around as much as I would like to be. Most of you moms deal with the same thing. Whether stay-at-home or working, finding that balance with kids is a true art. You are the true heroes.
The tennis champ, who was on the cover of Vogue earlier this year, also revealed that she vacillates between the idea of focusing more on motherhood and being a wife, and growing her profile even further with such new ventures as a fashion collection of sportswear and evening-wear, which she is launching soon, according to Vogue.
Williams has also opened up about her breastfeeding journey, her growing confidence as a mom, her difficult delivery and her struggle to recapture her sense of self, all of which she addresses in her HBO documentary, Being Serena.
Whatever the seven-time Wimbledon winner does next, it's sure to be something that will go well, harnassing Williams' trademark focus. (As an example, it was revealed recently in an adorable video that the trilingual athlete is already teaching her daughter French!) Last year was a whirlwind for the star, between her lavish New Orleans wedding (attended by Beyonce´ and Kim Kardashian, according to People ), Olympia's birth and everything else.
I hope in this coming year, with Olympia getting bigger, things will settle down a bit for the champ and her family. And whatever traditions Williams and Ohanian choose, or don't choose, to mark their daughter's very first year, I'm sure they will find a way to enjoy the big day as a family. Just make sure to post it for the rest of us to see, OK guys?