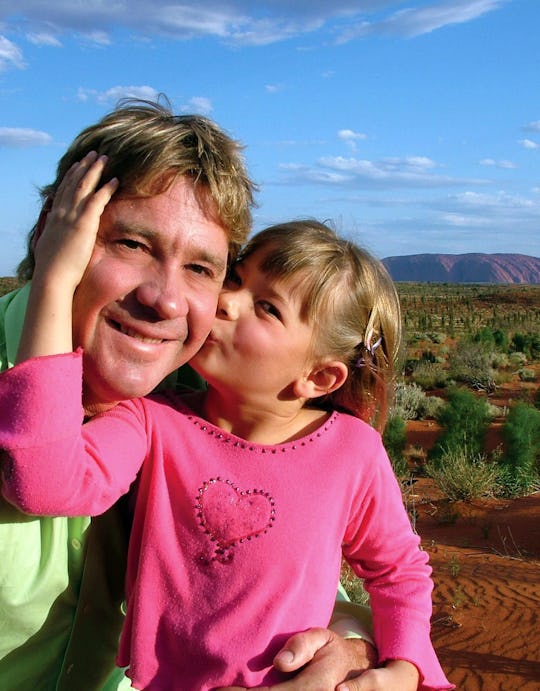 Handout/Getty Images Entertainment/Getty Images
20 Sweet Throwback Photos Of Steve Irwin With His Daughter Bindi To Make You Smile
It's been 14 years since his death, but these photos of Bindi and Steve Irwin bonding over their shared love of animals and wildlife is beautiful proof that his memory continues to live on. Not just through his daughter, but also through his son Robert and wife Terri.
Steve Irwin, or as fans of his wildlife conservation efforts remember him, the "Crocodile Hunter," died on Sept. 4, 2006 after being stung by a barb from a stingray during filming in the Great Barrier Reef. The Australian celebrity left behind his wife, daughter Bindi who was 8 years old at the time, and 3-year-old son Robert.
Since then, Irwin's family has continued to honor his legacy by running the Australia Zoo, a huge wildlife conservation area. The family has been joined by Chandler Powell, Bindi's longtime boyfriend who she married in March 2020. The couple announced at the beginning of August that they are expecting their first child together. Another exciting milestone, but one she will have to celebrate without her father.
When Steve Irwin died in 2006, as HuffPost reported, 8-year-old Bindi spoke at his eulogy, saying: "I don't want Daddy's passion to ever end. I want to help endangered wildlife just like he did. These photos of the two together are a strong reminder that, while Steve Irwin died when his daughter was so young, his influence remains as strong today as it was then.