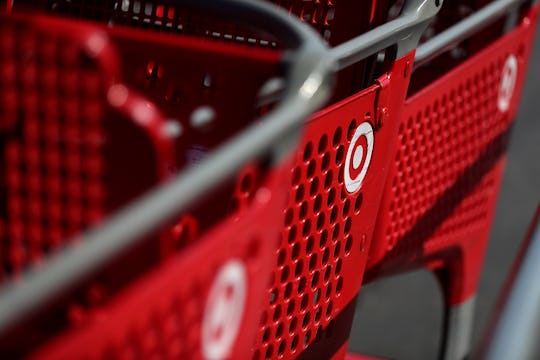 Justin Sullivan/Getty Images News/Getty Images
ATTN Parents: Target's Car Seat Trade-In Event Is Officially Back! Here's What You Need To Know
If your child is quickly outgrowing their car seat or their old one has been collecting dust in the depths of your garage, it might be time to get a new one. But, car seats are pricey and tossing your old one in a sustainable way can be more complicated than you'd imagine. Thankfully, though, one such way to dispose of it properly and get a sweet discount on a brand new one is through Target's car seat trade-in event, which is officially back next week in honor of Earth Day.
Beginning on April 22 and through May 5, all Target stores will be accepting any unwanted car seats for recycling, as explained by a press release on Target's website. Simply bring your used car seat to Guest Services and place the car seat in the provided drop-off box. In exchange, you will get a coupon for 20 percent off a new car seat, booster seat, car seat base, travel system, or stroller. The coupon can be used either in-store and online (on the full online assortment!), and it will be accepted through May 19, 2018.
Since launching the program in 2016, Target has held five trade-in events. Previously, Target partnered with TerraCycle, a company that specializes in finding ways to recycle and upcycle items that are typically not recyclable, according to its website. But this year, Target's car seat trade-in event is in partnership with Waste Management, the biggest North American provider of environmental solutions, comprehensive waste management services, and renewable energy, according to the company's website. Target will send all donated car seats to Waste Management, where the seats' parts will be turned into items including plastic buckets, grocery carts, and construction materials.
Now, if you know the three Rs of sustainability (reduce, reuse, recycle) — or if you're more advanced and know the five Rs (refuse, reduce, reuse, recycle, and rot) — you may be wondering why the reuse step doesn't seem to be getting any recognition here. As it turns out, the process of donating car seats and using secondhand car seats is rather controversial and complicated. Why is that? Well, it's critical that your child is in the safest car seat possible. With a secondhand car seat, it can be difficult to find out the answers to a few important questions, as explained by Consumer Reports:
1. Has the car seat been in a crash? Many experts recommend replacing any car seats that have been in collisions.
2. What is the car seat's expiration date? Every car seat should come with an expiration date, which is typically six years after it was manufactured. Click here to figure out when yours expires.
3. Is there a recall on the car seat? You obviously don't want to put a child in a car seat that has been recalled.
All that being said, the best way to trust that a secondhand car seat is safe is if a trusted friend or family member gives it to you, and they can provide proof that the car seat is not expired, has never been recalled, and has not been in an accident. Not to mention, car seat technology and research is always improving, so many parents may opt to buy new car seats when they have new babies even if their old models are still in good condition.
While reusing car seats for multiple children would be more environmentally friendly than recycling, the most important thing is always the safety of your child. So unless you have a buddy who is comfortable using your old car seat and it's in perfect condition, recycling it may be the way to go. And since most curbside recycling does not accept car seats, it's clear that Target's car seat trade-in event is helping keep car seats out of landfills.
And why is it important to divert waste from landfills? For starters, plastic items can take hundreds of years to decompose in a landfill, as noted by The Balance. And during that never-ending decomposition process, landfill waste emits harmful greenhouse gases that can contribute to health problems, climate change, and more, according to Ensia.
So by recycling your used car seat at Target, not only do you get a sweet coupon on a new one, but you're also helping to save the Earth.
Check out Romper's new video series, Bearing The Motherload, where disagreeing parents from different sides of an issue sit down with a mediator and talk about how to support (and not judge) each other's parenting perspectives. New episodes air Mondays on Facebook.