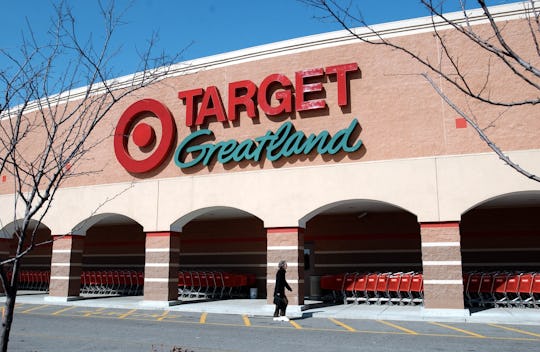 Darren McCollester/Getty Images News/Getty Images
Will Target Be Open On Christmas Eve 2018 If (When) You Forget Something?
When you're a kid, the only stressful thing about Christmas Eve is having to wait for presents. That's not the case as an adult, unfortunately. You'll be wrapping last minute gifts, trying not to lose your temper with your mother-in-law (who is just certain her Christmas cookie recipe is better than yours), and checking your kids' letters to Santa for the hundredth time to make sure you didn't forget anything. When you see that you somehow overlooked your youngest's request for a Fingerling, it'll be a matter of seconds before you're frantically googling Target's Christmas Eve hours 2018.
Well, I can save you the search because I've got the scoop on Target's Christmas Eve hours, and the info will make you breathe a sigh of relief if you think a last minute present run is in your future. As Go Banking Rates reported, Target will be opening early on December 24 at 7 a.m. and closing a bit later than usual: Either 10 or 11 p.m. depending on the location (look up the hours for your store here), which gives you plenty of time to run to the store/send your partner out after you've tucked the kids into bed.
The superstore will be closed on Christmas day, however, so make sure you check the wish lists sometime on Christmas Eve. You don't want to wake up in a panic in the middle of the night after you've had one too many spiked eggnogs and realize you forgot the stocking stuffers. There are a few stores that will be open on Christmas — along with every movie theater known to man, all spotlighting new releases, as Good Housekeeping explains — but you'll probably sleep better if you get the shopping done in the next few weeks instead of right before the big day.
Although it's good to know it'll be open late on Christmas Eve, I'd actually head to Target ASAP if you're looking to get the most out of their Christmas offerings. They've got tons of cute holiday products — like these holiday beauty sets and epic seasonal family pajama sets — but they will most likely sell out by Christmas Eve. Trust me, last year my fam waited until two days before Christmas to find matching pajamas, and we had to go to at least five different stores before we found them. It's much simpler to give yourself more time, especially since Target gets even more popular around this time of year.
Your other option is to wait until after Christmas is over to hit them up, because you know there will be major discounts on whatever people didn't buy before the holidays. The specifics on Target's after holiday sales haven't been released yet, but they usually do it pretty big. Last year they had major sales on storage items, as The Black Friday reported, which definitely would have come in handy when you were packing up those pesky decorations. Fingers crossed the sale is similar this year, and check back on their site for updates on the deets.
After experiencing a traumatic c-section, this mother sought out a doula to support her through her second child's delivery. Watch as that doula helps this mom reclaim the birth she felt robbed of with her first child, in Episode Three of Romper's Doula Diaries, Season Two, below. Visit Bustle Digital Group's YouTube page for more episodes, launching Mondays in December.