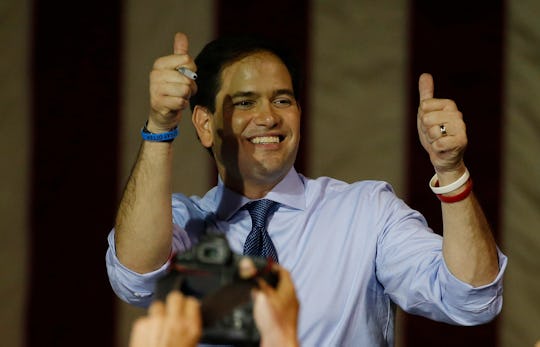 RHONA WISE/AFP/Getty Images
Ted Cruz Wanted Marco Rubio As His Running Mate, But It's A Little Late For That
A lot of people are dismayed that Donald Trump is now the presumptive Republican party presidential nominee, having driven both of his remaining opponents out of the race last week when he swept the Indiana primary. The business mogul and onetime reality show star has been the Republican frontrunner for most of his unorthodox campaign, amassing huge numbers of delegates and highlighting the deep-seated xenophobia that apparently thrives in so many American communities. While Trump's ascension to become one of the most influential figures in the GOP is making many of the nation's political elite very, very worried about what could happen in November, the GOP establishment itself may be the most chagrined. And now, sources close to the now-dead Ted Cruz campaign are claiming that Cruz wanted to tap Marco Rubio as his running mate, rather than Carly Fiorina, to avoid exactly the situation in which the GOP has found itself — but it's a little late for that.
Rubio, the rising Florida senator whom Trump once dubbed "Lil Marco", dropped out of the race in mid-March. Because the 2016 presidential hopes of both men will never be a reality, unnamed sources close to their campaigns are offering details about why Cruz wanted Rubio on his ticket, and why Rubio was allegedly not about it, CNN reported this week.
The rumored Rubio nod hit headlines after Cruz had already chosen another GOP dropout to (briefly) run as his potential VP: ex-Hewlett Packard CEO Carly Fiorina. The move was widely regarded as a last-ditch effort for Cruz to gain some traction against Trump, but it looks like he would have much preferred Rubio instead.
Rubio, for his part, was reportedly and resolutely uninterested in the idea of running with Cruz, even though a source close to Cruz said polling the the campaign clandestinely conducted predicted a "blowout" against Trump if the two ran together. The Cruz team polled voters in Illinois, Missouri, North Carolina, Arizona, and Wisconsin to gauge the viability of a Cruz-Rubio ticket.
Cruz is notoriously unpopular in Washington — former House Speaker John Boehner recently called him "Lucifer in the flesh" — and he evidently couldn't even get Rubio to call him back, according to CNN. As a result, Cruz campaign officials speculated that Rubio preferred not to pursue the vice presidency so that he could perhaps run for president again in 2020.
An unnamed source from the Rubio camp, though, offered a few reasons why Rubio wanted nothing to do with the unity ticket, and none of them have to do with the question of whether or not Ted Cruz is actually Satan. He reportedly believed that a Cruz-Rubio ticket would have fed Trump's outsider narrative, because both Cruz and Rubio are established politicians. Also, Cruz and Rubio are both Cuban-American, so Rubio believed they would not complement each other as running mates. Finally, according to the source, Rubio reportedly believed the decision was a premature attempt to sway voters away from Trump. Cruz's subsequent decision to join forces with Fiorina show Rubio was probably right.
Ah, Carly. I wonder how she feels about all this, because it's quite a slap in the face. The point is moot because Cruz is out of the race, but I'd still love to know whether she now wishes she'd made like Marco when Cruz started pursuing her, especially after she fell right off the stage at that Cruz campaign event and he didn't help her up. Some have jokingly mused that she went through a trap door. It's now clear that Rubio used something of a trap door of his own to stay away from Ted. Coincidence?