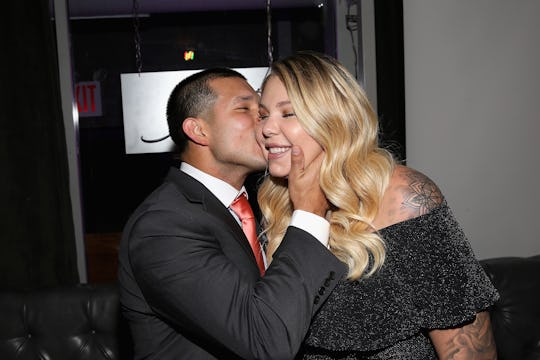 Bennett Raglin/Getty Images Entertainment/Getty Images
Kailyn Lowry Reveals She Has Doubts About Co-Parenting With Her Ex
Co-parenting is never an easy task, especially when you're trying to learn how to do it on reality television. In a new preview for the Marriage Boot Camp finale, it looks like Kailyn Lowry has doubts about co-parenting with her ex-husband Javi Marroquin, though she's dedicated to trying to make it work. Just because you don't know exactly how your family is going to work doesn't mean that it's not possible. And the young couple seems to be trying everything that they can to make things work out when it comes to parenting their 4-year-old son, Lincoln, together.
They've been through their ups and downs this season, culminating in this clip from the finale, which airs on Friday, in which Lowry seems uncertain about how they're going to move forward. The 25-year-old mom said, "I think there's a lot of built up resentment and betrayal between Javi and me, so I think it's going to be hard when we get home."
Dr. V asks her if she thinks that she'll be able to communicate with her ex enough to co-parent and she says that she's not 100 percent sure. When Marroquin is asked by Dr. Ish what "kind of father" Lincoln deserves, he doesn't seem to have an answer on the tip of his tongue. It was also revealed that he was being deployed again with the Air Force, according to People.
Later, Lowry is given two options: get back together with Marroquin or split up or good.
That's kind of a shame, since repairing one's relationship is not the same as being able to co-parent, though it does make it easier if you can come to some common ground with your parenting partner. That's been hard for Lowry and Marroquin all season. In November, the couple fought over Lincoln so badly that Marroquin even packed his bags and threatened to leave the show's house.
"He's always been dramatic, and that's part of the reason why we're not together. I can't deal with the dramatics," Lowry said on the show at the time.
Earlier this month, Lowry told Us Weekly about her and Marroquin's future together as parents.
Javi and I got to a really good place by early Fall and it's unfortunate that things have changed so much to the degree that it's affecting our ability to coparent. However, I'm not going to let this stop me. I'll continue to be respectful to the father of my child and keep working at my career, and that includes my writing. Writing has been keeping me busy and focused and I'm anxious to get these upcoming books out.
Though whether that's with Marroquin or not remains to be seen. Lowry recently announced that her and Marroquin's tell-all book series, He Said, She Said, was be cancelled. Lowry revealed this month that she has a new girlfriend and that Marroquin is dating Teen Mom newcomer Briana DeJesus, which is just one of the reasons that they cancelled the series. She told Us Weekly exclusively in early December:
I wanted to keep our co-parenting relationship intact and didn't want to make any significant others uncomfortable. We would have had to spend time together for promos and book tour, but we are not in a place to do that right now.
She responded to a fan on Twitter though saying that there are other projects in the works.
Initially, He Said, She Said came about after Lowry refused to let Mannoquin write his own tell-all book. So they compromised, thinking that he would write one and then she would write another, from her perspective. Marroquin told Radar Online, "It's two separate books. My book I already wrote and Kailyn's responding to mine with how she thought it played out. Then we have something for the readers after that. We want to give the people what they want."
Sadly, that won't be happening anytime soon. Though if they could compromise on a book deal, they can hopefully figure out how to co-parent with each other after Marriage Bootcamp.
Check out Romper's new video series, Romper's Doula Diaries:
Watch full episodes of Romper's Doula Diaries on Facebook Watch.