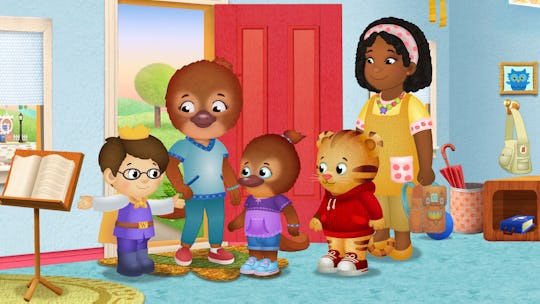 Courtesy of Fred Rogers Productions
'The Daniel Tiger Movie' Is Coming, & It's Full Of Lessons Every Kid Needs Right Now
On any given day, there's a chance that two to three Daniel Tiger references are being made in my household. Whether it's a reminder to "flush and wash and be on your way" after our 3-year-old uses the bathroom or quiet encouragement to "take a deep breath and let it go," Daniel Tiger and his catchy sayings have a way of proving themselves invaluable for navigating some of life's biggest lessons. That's why news that The Daniel Tiger Movie is coming to PBS stations next week has everyone feeling all kinds of excited — big and little kids alike.
According to a spokesperson for Fred Rogers Productions, The Daniel Tiger Movie: Won't You Be Our Neighbor? is an hour-long special that will premiere on PBS stations nationwide (check local listings) on Sept. 17. The new movie will also introduce viewers to the Platypus family, which includes Jodi Platypus, a new friend for Daniel Tiger. The movie will air throughout the week of Sept. 17 on PBS KIDS and the PBS KIDS 24/7 channel and live stream. It will also be available for free on pbskids.org and the PBS KIDS Video App.
Want more exciting news? Two new episodes from Daniel Tiger's Neighborhood will also debut throughout next week, focusing on themes such as making new friends and navigating unfamiliar social situations.
The episodes fall right in line with the theme of the movie, which zeroes in on Daniel and friends welcoming the neighbors and helping them adjust to their new surroundings. Little viewers will see Daniel lending an extra hand to help his neighbors make their new place feel like home.
Here's what you can expect from the new episodes that will air following the movie premiere:
"Jodi's First Day at School"/"Daniel Plays at Jodi's House" (premieres Sept. 18): Jodi Platypus is nervous on her first day at a new school, so Teacher Harriet explains to Jodi that she can find something or someone she knows to help herself feel better. She spots Daniel Tiger, who is someone she knows! Daniel takes on the duties of "First Day Friend" to help Jodi feel comfortable at her new school. In the second half of the episode, Daniel goes to Jodi's house after school. At first, Daniel feels a little nervous because he's never played at Jodi's house after school before. Then Daniel finds things he knows — like blueberries — to make himself feel better at Jodi's house.
"A New Friend at School"/"A New Friend at the Playground" (premieres Sept. 20): Daniel can't wait to race the crafty car he made at school with Prince Wednesday! But Prince Wednesday is busy playing with Jodi now. Is Prince Wednesday still Daniel's friend? Of course he is. In the second half of the episode, Daniel and Miss Elaina are playing together at the park. When their new friend Jodi shows up to play, Daniel worries that Miss Elaina likes Jodi more than him, but then Daniel is reminded that they're all still friends.
Sounds exciting (and like some great learning opportunities), right?
Like so many Daniel Tiger episodes, the premise of these new ones appears to be on point with so many of the things many of us are chatting about at home these days. (How are the Daniel Tiger peeps oh-so-good like that?) Big changes, how to welcome and accept new neighbors, making new friends, and finding room for everyone at school and in our homes? Yeah, that checks all of the right boxes in my book.
And it all kind of falls right in line with the original "won't you be my neighbor" motto that Fred Rogers — where Daniel Tiger first got his start — created in the 1950s. One of my favorites from Rogers?
"If only you could sense how important you are to the lives of those you meet; how important you can be to people you may never even dream of. There is something of yourself that you leave at every meeting with another person."
It sounds like Daniel Tiger is about to do exactly that with his new friend Jodi Platypus and, I'm not going to lie, I can't wait to see it all unfold.