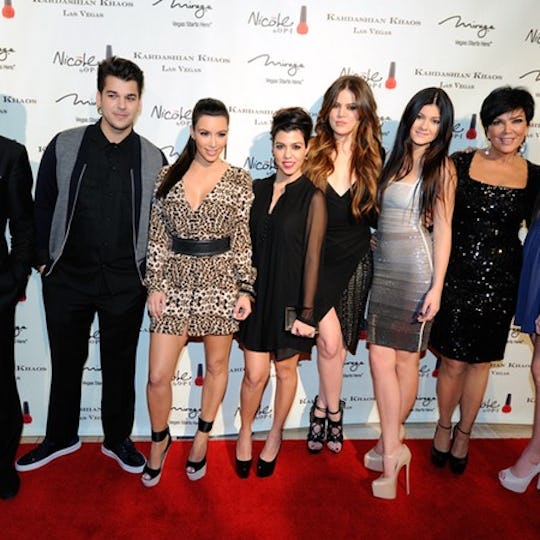 Ethan Miller/Getty
The Kardashians' Second Christmas Card Is Everything We Needed
The first 2015 Kardashian Christmas Card was shocking, mostly because it didn't feature a good majority of the Kardashian staples. In fact, only the third-generation Kardashian clan was featured, leaving many people to wonder, "Will there be another Kardashian Christmas Card," and did Rob Kardashian's now-consistent and prominent media-avoidance contribute to the children-only picture? Well, just in time, the second Kardashian Kristmas Kard has been unleashed.
Released for the Internet's amusement, in a New Yorker-esque caricature drawn by artist Emma Kenny, the card included the newest member to the Kardashian clan, Saint West. It is worth mentioning that, while Caitlyn Jenner's likeness is present, both Scott Disick and Kanye West are absent. Scott Disick's absence can be explained, as he and estranged ex-girlfriend Kourtney Kardashian have been broken up for some time now, and Disick is reportedly furious over rumors that Kourtney has been "hooking up" with pop star Justin Bieber.
Regardless, this newest version of the Kardashian Christmas Card is a welcomed change from the often over-the-top, ego-centric and oddly denim-heavy cards of holidays past. Perhaps the family is learning (and celebrating) what is most important during the usually materialistic holiday season. Or, maybe they're struggling to find ways to outdo themselves, year after year. Either way, this caricature Christmas Card is everything the Internet needed, after their first Christmas Card teaser. (See it here!)
It is worth noting that the Kardashian Kristmas Kard 2.0 was posted on Instagram (by Kourtney) on Christmas Eve Eve. On Christmas Eve, and (I'm assuming) in keeping with #ThrowbackThursday, Kourtney posted a throwback Christmas picture, showing Caitlyn Jenner from years' past, and a very young, definitely different Kylie and Kendall Jenner.
Regardless of the changes this family has experience the past couple of years (or even months), one thing is for certain: They have the Christmas card game on lock.
Images: Ethan Miller/Getty