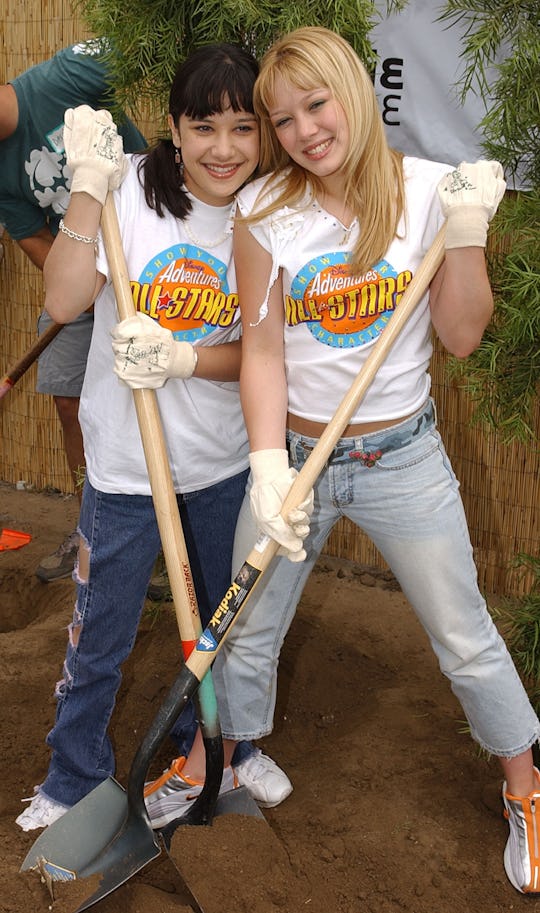 Robert Mora/Getty Images Entertainment/Getty Images
Dad Jokes & 8 Other Musts For The 'Lizzie McGuire' Reboot
Yesterday my life was duller, now everything's technicolor... because I found out that the Lizzie McGuire reboot is actually happening. It's not a hoax, as I originally assumed. It's not a dream, as I originally feared. This is real, my friends, and my nostalgic mom-heart is all a flutter with excitement and anticipation.
In the reboot, Lizzie is no-longer a 13-year-old student trying to navigate the ups and downs of middle school. At the Disney Plus's D23 Expo event earlier this month, Hilary Duff, who will be reprising the role of Lizzie, said that Lizzie has "the perfect life right now, working as an apprentice to a fancy New York City decorator" and is preparing for her 30th birthday party, as reported by Variety. Like us, Lizzie has grown up, but her status as an adult doesn't mean us nostalgic moms, who grew up watching Lizzie face the same troubles we were experiencing, don't need a few things from her and her story.
I've been re-watching episodes of Lizzie McGuire for years, and the amount of hours I've spent watching The Lizzie McGuire Movie would, quite honestly, shock you. I can recite that movie from beginning to end, to this very day, with zero shame. So the fact that fans like me have been gifted with this reboot are what my Ronnie-inspired dreams are made of. I remember Lizzie's first kiss, her concern for Miranda when she thought she was developing an eating disorder, and her struggles with the concept of femininity after she beats Ethan Craft in an arm-wrestling match. I remember, very fondly, waiting for each new episode to be released on The Disney Channel so that I could immerse myself in the relatable, dramatic, silly moments of this classic coming-of-age show.
And now, as a mom, I'm doing the same, only I'm looking for different content this time around. While I find myself relating more and more to Jo, I know that Lizzie can and (hopefully) will offer moms like me more "OMG, me too!" moments. So with that in mind, here's what moms who grew up watching Lizzie McGuire want to see from the upcoming reboot: