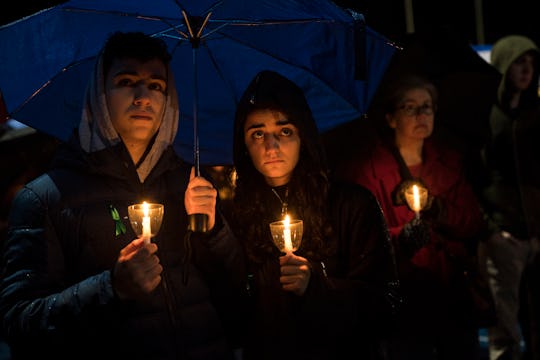 Drew Angerer/Getty Images News/Getty Images
The March For Our Lives Calendar Of Events Will Have Millions Taking To The Streets
On Feb. 14, a gunman opened fire at a high school in Parkland, Florida, killing at least 17 people and injuring dozens of others, according to police. The deadly mass shooting at Marjory Stoneman Douglas High School left the Parkland community angry and afraid, but it has also sparked a fire in the teen survivors, who have come together to demand action from lawmakers on gun violence prevention. They've organized a massive protest for later next month, but their work has grown beyond that. In fact, the March For Our Lives calendar of events is getting bigger, and here are three major protests to mark down.
Never Again, the student group behind March For Our Lives, did not organize two of these events. Still, they're nonetheless related to its mission and the broader youth movement against gun violence — the groundwork of which had been laid by Black Lives Matter and fellow Florida-based activist group the Dream Defenders. Through these actions, these young protesters have made headway in a contentious — and traumatic — debate in a way that adults have so far failed to do. After all, their work has pushed Dick's Sporting Goods to pull assault-style weapons from its shelves.
Read on to learn more about these events, and how you can attend.
March 14
Last week, thousands of students across the country walked out of their classrooms to stand in solidarity with the Parkland survivors and their families, as well as honor those who were killed in the fatal mass shooting. Youth in Florida, Illinois, Ohio, Maryland, Washington, D.C., and Arizona, among other states marched together to demand a ban on assault weapons such as the ones used in Parkland, Florida, Newtown, Connecticut, and countless other mass school shootings. And many of those students walked out of school to protest gun violence despite being threatened with suspension by school administrators (because no one should be punished for exercising their first amendment rights).
Teenagers and young adults who weren't able to participate in last week's school walkout will get a second chance on March 14, a month to the day of the mass shooting at Marjory Stoneman Douglas High School. The Women's March Youth EMPOWER group has organized the Enough! National School Walkout, calling for students, school staff, and community members to march in the streets for 17 minutes at 10 a.m. across every time zone that day, according to the walk-out's Facebook event page.
March 24
The teen survivors of the Parkland shooting organized the official March For Our Lives protest for March 24, according to the March For Our Lives website. At 10 a.m. Eastern Time that day, students, families, friends, allies, community members, and activists will gather in the streets of Washington, D.C. to demand tighter gun laws and an end to the rampant gun violence that has gripped America.
If you can't make it to the U.S. Capitol on March 24, you can attend one of the hundreds of satellite marches taking place across the country and around the globe. Cities in the United States that will host rallies the same day as the official march include (but are nowhere near limited to) Philadelphia, San Antonio, Austin, Miami, Ann Arbor, Cleveland, Detroit, New York City, Chicago, Boston, Sacramento, Providence, and Atlanta, according to the March For Our Lives' Facebook page. March For Our Lives events are also scheduled to take place in Toronto, London, Brussels, and Edinburgh. If you're unable to march in general, consider making a donation to the cause instead.
April 20
Another major National School Walkout event is planned for April 20, which is the 19th anniversary of the Columbine High School massacre that killed 12 students and a teacher, according to NBC News. The nationwide protest has been organized by Connecticut high school student Lane Murdock, who lives near Sandy Hook Elementary School, where, on Dec. 14, 2012, a gunman opened fire and killed 20 children between ages 6 and 7, as well as six adult school staff.
Murdock had started a Change.org petition calling for a national high school anti-gun violence walk-out, NBC News reported. In the petition, she's asking students and faculty across the country to leave class, wear orange, and take a stand against gun violence. So far, her petition has received more than 231,000 signatures in the last week; the goal is 300,000.
The youth behind these actions have one simple message: Enough is enough. The United States is facing a gun violence epidemic that mostly conservative lawmakers refuse to address. As Murdock wrote in her petition, nothing has changed since Columbine, and it's about time something does.
Check out Romper's new video series, Romper's Doula Diaries:
Watch full episodes of Romper's Doula Diaries on Facebook Watch.